Bittersweet Chocolate & Balsamic Pots de Crème
Winter 2015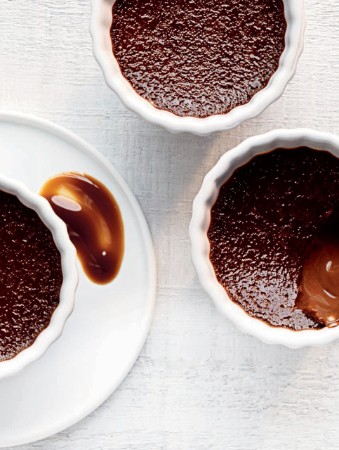 Bittersweet Chocolate & Balsamic Pots de Crème
Winter 2015
BY: Eshun Mott
Halfway between a custard and a ganache, these pots de crème are almost as luxurious as the centre of a truffle. They make the perfect ending to a special meal.
6 large egg yolks
¼ cup (60 mL) sugar
Pinch salt
1½ cups (375 mL) whipping cream
½ cup (125 mL) milk
5 oz (150 g) bittersweet chocolate (ideally around 72% cocoa), finely chopped
1 tbsp (15 mL) high-quality balsamic vinegar
1 Preheat oven to 325°F (160°C).

2 Whisk egg yolks, 1 tbsp (15 mL) sugar and salt in a large bowl until smooth. Reserve.

3 Combine whipping cream and milk with remaining 3 tbsp (45 mL) sugar in a medium pot and bring just to a simmer. Remove from heat, add chocolate, let stand 2 minutes to melt, then stir until smooth. Stir in balsamic vinegar.

4 Whisking constantly, slowly add chocolate mixture to egg mixture until fully combined. Divide between 6 small ovenproof baking dishes. Cover each dish tightly with foil and place in a baking pan. Pour enough boiling water in the baking pan to come about halfway up the sides of the baking dishes.

5 Bake for 30 minutes or until custard is set but wiggles evenly when bumped. Serve warm, or chill until serving and serve cold.
SHARE