Big Vegetable Bowl with Yogurt Green Goddess Dressing
Winter 2018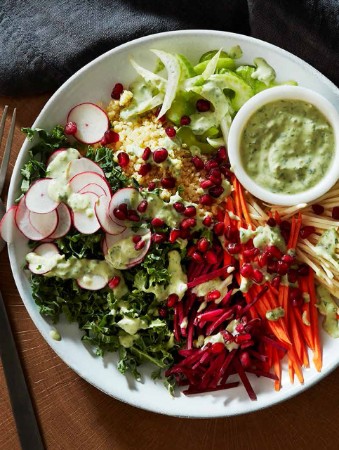 Big Vegetable Bowl with Yogurt Green Goddess Dressing
Winter 2018
BY: Victoria Walsh
Salad for dinner isn't strictly reserved for summertime. Take advantage of winter's harvest by creating a big bowl filled with hearty goodness, including earthy root vegetables, sturdy greens and grains. Tie it all together with a vegetarian version of the classic green goddess (using capers in place of anchovies). It's souped-up with avocado so you won't miss the mayo.
DRESSING
4 green onions, coarsely chopped
1 cup (250 mL) chopped parsley
½ cup (125 mL) chopped cilantro
6 to 8 tbsp (90 to 125 mL) water, divided
2 tbsp (30 mL) lemon juice
1 small garlic clove
1 tsp (5 mL) drained capers
1 cup (250 mL) plain yogurt
2 small ripe Hass avocados
Generous pinch Maldon salt

SALAD
1 large or 2 small beets
2 carrots
1 parsnip
1 large bunch green or purple kale
2 celery stalks
5 radishes
GRAINS
1 cup (250 mL) white quinoa, red bulgur or millet
1 garlic clove (optional)
1 cup (250 mL) pomegranate seeds
A handful of pea shoots or beet sprouts for garnish (optional)
1 Whirl onions, parsley, cilantro, 4 tbsp (60 mL) water, lemon juice, garlic and capers in food processor until puréed. Add yogurt and avocados. Whirl just until incorporated and smooth. Pulse, scrape sides down and add a little more water 1 tbsp (15 mL) at a time. Season with salt. Whirl to incorporate.
2 Peel beets, carrots and parsnip. Using a mandoline or box grater, finely shred beets, carrots and parsnips. Using a knife, finely shred kale. Using a knife or mandoline, thinly slice celery and radishes.
3 Cook grain of your choice following package directions. For instance, rinse quinoa or bulgur and drain well. Place in a small pot. Top with 1½ cups (375 mL) water. If using millet, use 2 cups (500 mL) water. Add garlic if you wish. Bring to a boil. Reduce heat to low. Cover and gently cook until tender and water absorbs, 12 to 15 minutes. Drain, if needed. Serve warm or spread out on a parchment-lined baking sheet and let cool. Discard garlic if using.
4 Assemble salad in a large bowl, layering grain, kale, shredded and sliced vegetables. Sprinkle with pomegranate seeds, and shoots if desired. Serve dressing alongside.
Serves 4; makes 2¾ cups (675 mL) dressing
SHARE