Big-Red Pizza
Winter 2008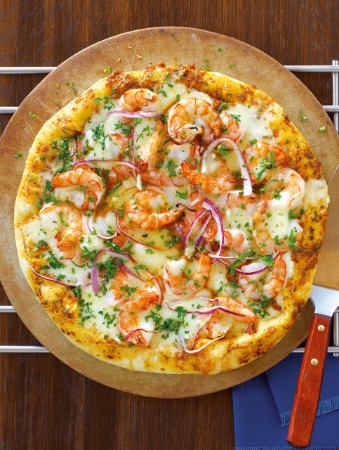 Big-Red Pizza
Winter 2008
BY: Marilyn Bentz-Crowley
Roasted red-pepper pesto, shrimp and red onion provide the crimson, not tomatoes!
Pesto Sauce
1 large or 2 small sweet red peppers
1 large garlic clove, minced
2 tbsp (25 mL) olive oil
½ tsp (2 mL) balsamic vinegar
¼ tsp (1 mL) each of salt and freshly
ground black pepper
⅔ cup (150 mL) freshly grated `Za hard-cheese blend or hard-cheese of choice
¼ cup (50 mL) chopped fresh basil or parsley

Pizza
1 recipe pizza dough (recipe follows) or purchased dough, about 1 lb (500 g)
1½ lb (750 g) medium raw shrimp, defrosted
3 cups (750 mL) cubed `Za soft-cheese blend or soft-cheese of choice
1 cup (250 mL) thinly sliced red onion
¼ cup (50 mL) chopped fresh basil or parsley
1. To make sauce, roast red pepper until skin is loose and blackened in spots. Cool until able to handle; then remove skin and seed. Whirl red pepper with garlic in blender or food processor until puréed. Add olive oil, vinegar, salt and pepper. Whirl until mixed. Whirl in cheese and basil until just mixed. Sauce can be made ahead; cover and refrigerate for up to 2 days.

2. To make pizza, pat out dough in two 12-inch (30-cm) round oiled pizza pans for thin crusts or a half-sheet pan for medium-thick crust. If using a jelly-roll pan for thick crust, reduce topping quantities by a third. Form a rim around edges. Dough resists flattening so let rest between patting while continuing with toppings.

3. Peel shrimp, removing shells including tails. (Keep cold until ready to use as shrimp rapidly spoils at room temperature.) Pat dry with paper towels just before using.

4. Arrange oven racks with one on lowest level and one just above oven centre.

5. Preheat oven to 475°F (240°C) at least 15 minutes before baking.

6. Spread dough with pesto. Scatter evenly overtop with shrimp and cheese cubes; then top with onions. Let rise, uncovered, for 10 to 20 minutes or until dough has almost doubled.

7. Place pizza on lowest rack. Bake 5 to 10 minutes. Use a spatula, turn up one corner of the dough to check for browning. When nicely browned, move pizza to top rack for 5 to 8 minutes or until top is golden. Scatter basil overtop of hot pizza. To preserve crispy bottom crust, slide onto a cooling rack; use kitchen shears to cut into pieces.
SHARE