Big Bowl Noodle Soup, Sichuan Style
Winter 2003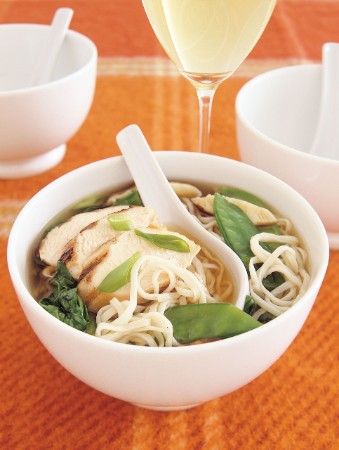 Big Bowl Noodle Soup, Sichuan Style
Winter 2003
BY: Lucy Waverman
A hearty one bowl dinner with masses of flavour. Alter the vegetables to suit your tastes, including anything you like.


1 tbsp (15 mL) soy sauce
1 tsp (5 ml) grated ginger
1 tsp (5 mL) Asian chili sauce
1 tsp (5 mL) sesame oil
3 boneless, skinless chicken breasts
Salt and freshly ground pepper

Soup

8 oz (250 g) fresh chow mein noodles
8 cups (2 L) chicken soup   (recipe below)
1 tbsp (15 mL) soy sauce
1/2 tsp (2 mL) Asian chili sauce
1 tsp (5 mL) grated ginger
1/2 cup (125 mL) snow peas
4 shiitake mushrooms, stems removed, sliced
2 cups (500 mL) baby spinach leaves
3 green onions, chopped
1/4 cup (50 mL) torn coriander leaves
1/2 tsp (2 mL) sesame oil, optional


1. Combine soy sauce, ginger, Asian chili sauce and sesame oil. Brush over chicken breasts. Season with salt and pepper. Marinate for 30 minutes. Grill breasts 5 minutes per side in a grill pan or on a grill, or until juices are clear. Slice into 1/2-inch (1-cm) strips.
2. Bring a large pot of water to boil and add noodles. Cook 2 to 3 minutes or until soft. Drain and reserve.
3. Heat soup in large soup pot on medium heat. Mix in soy sauce, chili sauce and ginger and simmer for 5 minutes.
4. Add snow peas and mushrooms and simmer another 5 minutes. Add spinach and simmer until just wilted. Stir in green onions and coriander leaves. Taste for seasoning adding salt, pepper or more soy sauce if desired.
5. Divide noodles among 3 or 4 large bowls. Divide chicken among bowls. Pour over soup and vegetables. Drizzle with sesame oil, if desired.

Chicken Soup
Look for plump, yellow-skinned chickens, not white skinny ones. The chicken meat can be used for salad or chicken pot pie or diced up and returned to the soup for serving.

One 4 lb (2 kg) chicken, preferably free range
2 lbs (1 kg) backs and necks
2 large onions, unpeeled, cut in chunks
3 large carrots, cut in chunks
3 stalks celery, cut in chunks
4 cloves garlic, unpeeled
6 peppercorns
4 sprigs parsley
8 oz (250 g) egg noodles
Salt and freshly ground pepper
1. Cover chicken and backs and necks with water by about 1-inch (2.5-cm) in large pot. Bring to boil. Reduce heat to low and skim the foam that rises to the surface. Add onions, carrots, celery, garlic, peppercorns and parsley.
2. Simmer soup for 1 hour maintaining a gentle simmer with some bubbles rising to the top. If you cook the soup on too high a heat, it turns cloudy. After 1 hour, check the chicken and if the juices are clear, remove from soup pot. Cool a little, remove bones, discard skin and return bones to pot, reserving chicken for another use.
3. Simmer for 2 hours longer or until soup is filled with flavour. Strain, discarding bones and vegetables. Chill and remove fat.
SHARE