Big-Batch Tandoori Chicken
Summer 2019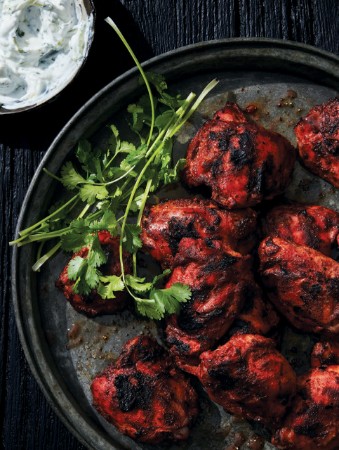 Big-Batch Tandoori Chicken
Summer 2019
BY: Jennifer MacKenzie
A marinade with three simple ingredients takes ho-hum chicken thighs to oh, yum! Cooking on indirect heat prevents flare-ups, keeps the chicken from sticking to the grill and, along with the marinade, makes for moist, juicy chicken (even without the skin). If you don't have enough room on your barbecue for all the chicken at once, cook in two or three batches leaving the remaining chicken marinating in the fridge.
CHICKEN
¾ cup (175 mL) plain yogurt (not fat-free)
¼ cup (60 mL) tandoori paste
20 skinless bone-in chicken thighs or 10 skinless bone-in chicken breasts, about 4 lbs (1.81 kg)
¼ cup (60 mL) fresh lemon juice
Canola oil
Salt
Fresh cilantro leaves

RAITA
1 ½ cups (375 mL) plain yogurt (not fat-free) or 1 cup (250 mL) plain Greek yogurt
¼ English cucumber
2 tbsp (30 mL) chopped fresh cilantro
¼ tsp (1 mL) salt
1 For the chicken, combine yogurt and tandoori paste in a small bowl.

2 If using chicken breasts, cut each in half crosswise. Use a paring knife to score the meat on each piece of chicken 2 or 3 times. Place chicken in a large bowl and add lemon juice. Toss to evenly coat and let stand for 10 minutes.

3 Add yogurt mixture to chicken and toss to evenly coat. Cover and refrigerate for at least 1 hour or for up to 1 day.

4 For the raita, place the yogurt in a sieve lined with a coffee filter or cheesecloth set over a bowl. Cover and refrigerate to drain yogurt for at least 1 hour or for up to 1 day. (If using Greek yogurt, skip this step.)

5 Scrape drained yogurt into a bowl. Add cucumber, cilantro and salt and stir well. Cover and refrigerate until ready to serve, for up to 1 day.

6 Preheat barbecue grill to high.

7 Turn one side of barbecue off and turn other burner(s) to medium-high or temperature required to maintain 450°F (230°C). Oil unlit side of grill. Remove chicken from marinade, leaving a thick coating on the chicken, discarding excess marinade. Place chicken, meaty side up, on grill over unlit side. Season with salt. Close lid and grill for 25 to 30 minutes or until a meat thermometer inserted in the thickest part of chicken (not touching bone) reads 165°F (74°C) or juices run clear when chicken is pierced for thighs, or breasts are no longer pink inside.

8 Oil hot side of grill. Move chicken to hot side and grill, turning once, for 2 to 3 minutes per side, until browned. Transfer to a large dish and let stand for 5 minutes before serving.

9 Reserve 6 pieces for Chicken Summer Vegetable Curry (recipe below) and 6 pieces for Tandoori Chicken Avocado Wraps (recipe below) or Quick Ideas (see below). Reserve about half of the raita for curry, if desired.

10 Serve hot tandoori chicken with raita and garnished with fresh cilantro leaves.

11 Let leftover chicken cool, then refrigerate in an airtight container for up to 3 days. Store raita in a separate container for up to 1 day.


More Quick Ideas
Make a mini pizza with sauce, mozzarella, tandoori chicken, sweet red pepper and cilantro layered on top of naan. Add tandoori chicken to scrambled eggs with sautéed kale or spinach and top with fruit chutney.
Serves 4 with leftovers for 2 recipes
Chicken Summer Vegetable Curry
Fresh summer veggies and leftover Big-Batch Tandoori Chicken; it ony takes a quick sauté and you'll have a scrumptious one-pan curry for dinner. A bed of rice adds heft. If you like a richer, saucy curry use the coconut milk, but good ol' water works well, too. For a mild red curry, you can substitute 2 tbsp (30 mL) tandoori curry paste for the curry powder. If you don't have any leftover raita, stir some chopped fresh cilantro into plain yogurt to dollop on top—it provides another perfect finishing touch.

2 tbsp (30 mL) canola oil
1 onion, thinly sliced
1 tbsp (15 mL) minced ginger
2 cloves garlic, minced
1 tbsp (15 mL) curry powder
Salt and freshly ground pepper
1 small eggplant, cut into small chunks
2 zucchini, cut into small chunks
3 tomatoes, chopped
1 cup (250 mL) water or coconut milk
4 oz (115 g) green beans, chopped
6 pieces leftover Big-Batch Tandoori Chicken, torn into chunks
Sriracha (optional)
Naan and/or hot cooked rice
Leftover Raita
1 Heat oil in a large, deep skillet over medium heat. Add onion and cook, stirring, for about 5 minutes or until softened and just starting to lightly brown. Add ginger, garlic, curry powder, 1 tsp (5 mL) salt and pepper to taste. Cook, stirring, for 2 minutes or until fragrant.

2 Add eggplant and zucchini. Cook, stirring often, for about 5 minutes or until liquid is released and vegetables start to brown (add a splash of the water if the pan gets too dry). Add tomatoes and cook, stirring often, for about 5 minutes or until juices are released. Stir in water (or coconut milk) and bring to a boil, scraping up any brown bits stuck to pan.

3 Stir in green beans and chicken, cover, and reduce heat to a simmer. Simmer for about 5 minutes or until beans are tender-crisp and chicken is hot. Season to taste with salt and Sriracha.

4 Meanwhile, warm naan on a grill or in the oven, if desired.

5 Serve hot curry over rice, if desired, with naan on the side and with raita dolloped on top.
Tandoori Chicken Avocado Wraps
When a sandwich filling combo stays in your memory for more than 20 years you know it's a good one! The tiny Jupiter Café in Toronto closed decades ago but remains the inspiration for one of my favourite sandwiches of all time. Once you taste it, I think you'll agree that it's reason enough to grill up the Big-Batch Tandoori Chicken on a regular basis.

1 avocado
2 tbsp (30 mL) mayonnaise
1 tbsp (15 mL) fresh lime juice
Salt
4 large flour tortillas
6 pieces leftover Big-Batch Tandoori Chicken, coarsely shredded
1 carrot, julienned
¼ English cucumber, julienned
2 cups (500 mL) shredded romaine lettuce or microgreens
1 Coarsely mash avocado in a bowl with mayonnaise and lime juice. Season to taste with salt.

2 Spread avocado in a wide strip down the centre of tortillas, dividing evenly, leaving about 1 inch (2.5 cm) at the bottom. Top with chicken, carrot, cucumber and lettuce. Fold up bottom of tortilla, then fold in the sides.
SHARE