Berry Chocolate Trifle
Holiday 2009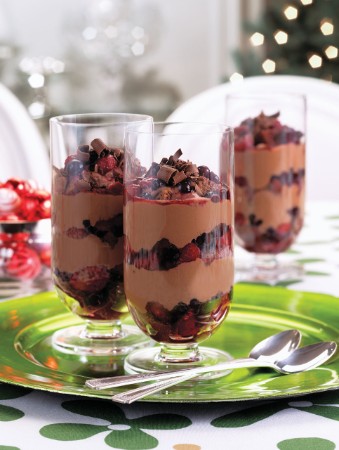 Berry Chocolate Trifle
Holiday 2009
BY: Jennifer MacKenzie
Airy chocolate cake, a softly set, rich chocolate custard and liqueur-spiked berries offer a twist on traditional trifle. Each element can be made ahead as can the assembly of the trifles so they're ready and waiting in the fridge when it's time for dessert. In fact, they benefit from standing so there's no fuss when you're ready to serve except to add the final garnish. For traditionalists, a dollop of sweetened whipped cream before the chocolate shavings is always a nice touch.
Cake
3 eggs
⅓ cup (75 mL) all-purpose flour
¼ cup (50 mL) unsweetened cocoa powder
Pinch salt
½ cup (125 mL) granulated sugar
1 tsp (5 mL) vanilla
2 tbsp (25 mL) butter, melted

Chocolate Custard
3 cups (750 mL) milk
⅓ cup (75 mL) granulated sugar
4 tsp (20 mL) cornstarch
3 egg yolks
6 oz (175 g) bittersweet (dark) chocolate, finely chopped
1½ tsp (7 mL) vanilla

Berries
4 cups (1 L) frozen mixed berries
½ cup (125 mL) framboise, Chambord or other fruit liqueur
Bittersweet (dark) chocolate shavings, for garnish
1. For cake, preheat the oven to 375°F (190°C).

2. Line the bottom of an 8-inch (20-cm) square cake pan with parchment paper.

3. Place eggs (in shells) in a bowl and cover with warm water; let eggs warm to slightly above room temperature, refreshing with more warm water if it cools. In another bowl, whisk together flour, cocoa and salt.

4. Drain water from eggs and crack into a straight-sided bowl. Add sugar. Using an electric mixer, beat until very pale, quadrupled in volume and ribbons fall slowly from beater when lifted. Beat in vanilla. Sprinkle with half the flour mixture and fold just until combined. Gently fold in remaining flour mixture. Fold in butter. Pour into prepared pan.

5. Bake for about 25 minutes or just until top springs back when lightly pressed. Let cool in pan on a rack for 15 minutes. Run a knife around edge of cake and invert onto rack. Peel off paper and let cool completely.

6. For custard, heat milk and half the sugar in a saucepan over medium heat just until steaming. In a bowl, whisk remaining sugar, cornstarch and egg yolks until blended. Gradually pour in hot milk, whisking constantly. Return to saucepan. Cook over medium-low heat, whisking constantly, for about 12 minutes or until slightly thickened and bubbles just rise to the surface. Remove from heat and strain through a sieve into a clean bowl over chocolate. Add vanilla and stir until chocolate is melted. Place plastic directly on the surface and chill completely, for at least 4 hours or for up to 1 day.

7. For berries, in a bowl, combine berries and liqueur. Let stand, stirring occasionally, for 2 to 4 hours or until berries are melted and well flavoured with liqueur. Cut any large berries into smaller pieces.

8. To assemble, cut cake in half horizontally. Cut each half into 36 squares. Place 3 squares in each of eight 8- to 12-oz (250 to 375 mL) highball, parfait or wine glasses. Spoon 1 tbsp (15 mL) berries with juice on top of cake. Spoon in 1 heaping tbsp (15 mL plus) of the custard. Repeat once with cake, berries and custard. Top with remaining cake cubes, then custard and berries and juice. Cover and chill for at least 2 hours or for up to 8 hours.

9. To serve, sprinkle with chocolate shavings.
SHARE