Beet and Dill Torte
Autumn 2018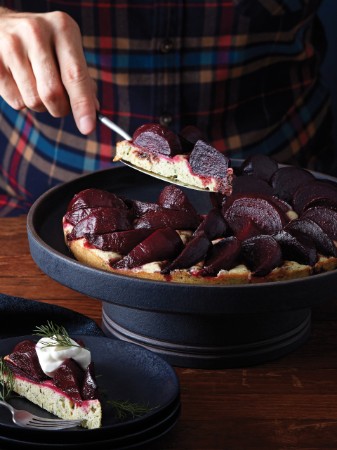 Beet and Dill Torte
Autumn 2018
BY: Joanne Yolles
There's a very famous cake published in many circles known as Marian Burros's Plum Torte. It's a simple butter cake topped with plums and cinnamon sugar and everyone seems to love it. You'll find our own take on that recipe below. Here, that cake has been transformed and turned into something just a little bit sweet but mostly savoury. With next to no sugar, fresh beets and lots of chopped dill, the cake is equally as light as the original sweet version. Use both red and yellow beets for dramatic effect and, before serving, brush the beets with the balsamic glaze for shine and flavour. And that all-important dollop of sour cream? Well, it's the icing on the cake.
CAKE
½ cup (125 mL) unsalted butter, room temperature, plus extra for greasing pan
1 cup (250 mL) all-purpose flour, plus extra for pan
1 tsp (5 mL) baking powder
½ tsp (2 mL) salt
1 tbsp (15 mL) sugar
2 eggs, room temperature
⅓ cup (80 mL) finely chopped dill
5 to 6 medium beets, roasted, peeled and cut into eighths

BALSAMIC GLAZE
½ cup (125 mL) balsamic vinegar
2 tbsp (30 mL) maple syrup
Sour cream and dill for garnish
1. Preheat the oven to 350°F (180°C). Butter and flour the bottom of a 9-inch (23-cm) springform pan and set aside.

2. In a medium bowl, whisk together 1 cup (250 mL) flour, baking powder and salt and set aside.

3. In the bowl of an electric mixer fitted with the paddle attachment, cream together 1/2 cup (125 mL) butter and sugar. Add eggs 1 at a time, mixing to combine. The mixture will look curdled but will come together with the addition of flour.

4. On low speed, add the flour mixture to the butter mixture, mixing just to combine. Remove the bowl from the mixer and stir in the chopped dill. Spread the batter in the pan. Arrange the beets in concentric circles over the batter, pressing them in gently as you go.

5. Bake for 35 to 40 minutes, or until the cake has risen and is just beginning to brown around the edges.

6. While cake is baking, prepare balsamic glaze. Combine balsamic vinegar and maple syrup in a small saucepan. Bring to a boil and reduce to a simmer. Continue simmering until the vinegar has reduced by half, about 10 to 12 minutes. Remove from heat and cool.

7. Remove the cake from the oven and cool on a wire rack. When ready to serve, brush the beets lightly with the glaze. Cut into wedges and garnish with a dollop of sour cream and a sprig of dill.
SHARE