Beer-Glazed Pork Tenderloin with Gruyère & Cranberry Risotto
Holiday 2013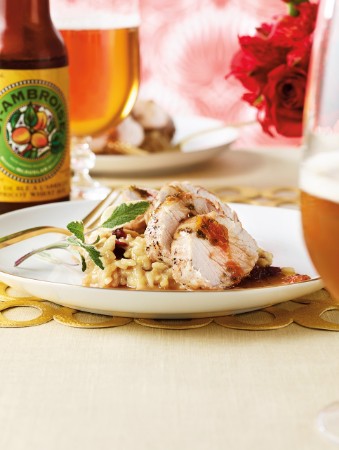 Beer-Glazed Pork Tenderloin with Gruyère & Cranberry Risotto
Holiday 2013
BY: Tonia Wilson-Vuksanovic
This dish has all the taste sensations covered—sweet, salty, tart, bitter and even umami, which is delivered by the Gruyère cheese. A helpful tip is to warm the stock in a measuring jug in the microwave. It can then be easily poured right into the pot. Using a pan that just fits the tenderloin will help avoid getting scorched areas on the surface of the pan, which will make for a better glaze.
GRUYÈRE & CRANBERRY RISOTTO
2 tbsp (30 mL) olive oil
1 cup (250 mL) shallots or onion, finely chopped
2 tbsp (30 mL) garlic, finely chopped
2 tsp (10 mL) fresh thyme or sage, finely chopped
Pinch of salt
1 cup (250 mL) arborio or carnaroli rice
1 tsp (5 mL) lemon juice
4 cups (1 L) beef stock, warmed
¼ cup (60 mL) dried cranberries
2 tbsp (30 mL) unsalted butter
½ cup (125 mL) good quality Gruyère
or Emmenthal cheese, grated

PORK TENDERLOIN
2 medium pork tenderloins, about ¾ lb (375 g)
each, cut into halves if needed to fit pan
Salt and freshly ground pepper, to taste
2 tbsp (30 mL) unsalted butter
2 tsp (10 mL) fresh sage, finely chopped
½ cup (125 mL) beer, preferably the St-Ambroise
2 tbsp (30 mL) apricot jam
1 Preheat oven to 350°F (180°C).

2 Start with the risotto. In a large pot or saucepan heat oil over medium. Add shallots, garlic, thyme and a pinch of salt. Cook until shallots are fully tender, about 10 minutes.

3 Stir in rice, combine well with shallots. Add lemon juice. Add enough stock to come to the surface of the rice. Stir well. When the stock has been absorbed continue to add stock ½ cup (125 mL) at a time, adding more when the last addition has been absorbed. Continue adding stock until the rice is al dente (or tender but not mushy), about 20 minutes. If the rice is still too firm and all stock is used continue to cook with water. Stir in cranberries during the last few minutes of cooking.

4 Just before serving, stir in 2 tbsp (30 mL) butter and Gruyère until melted.

5 While risotto is cooking, season pork generously with salt and freshly ground pepper.

6 In an ovenproof pan that just fits the pork, heat 1 tbsp (15 mL) butter over medium-high.Brown pork all over, about 10 minutes total.

7 Place pan in preheated oven and cook to internal temperature of 150°F (65°C). Remove pork from pan, cover with foil to keep warm.

8 In the same pan, add remaining 1 tbsp (15 mL) butter, sauté sage for 1 minute over medium. Add beer and apricot jam. Reduce over medium heat to desired consistency.

9 Slice pork and serve on top of the risotto.Drizzle with reduced glaze.
SHARE