Beer Aïoli Dip
Winter 2016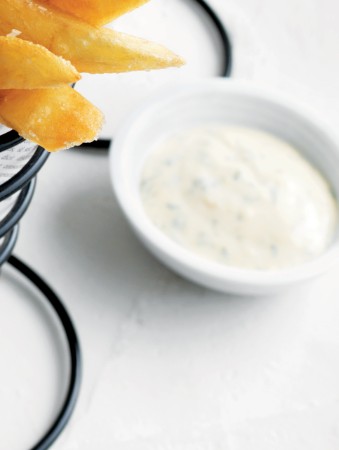 Beer Aïoli Dip
Winter 2016
BY: Lucy Waverman
This dip has everything in it for a great dip for fries—citrus, spice, fresh herbs and a zesty mayonnaise-beer base. It will make ketchupa thing of the past. It also pairs well with vegetables and fried chicken.
1 cup (250 mL) mayonnaise
¼ cup (60 mL) pilsner
1 tsp (5 mL) chopped garlic
1 tbsp (15 mL) lemon juice
1 tsp (5 mL) grated lemon zest
½ tsp (2 mL) Sriracha
¼ cup (60 mL) olive oil
2 tbsp (30 mL) chopped parsley
Salt and freshly ground pepper
1 Whisk together mayonnaise and pilsner. Add garlic, lemon juice, zest and Sriracha. Slowly beat in olive oil. Stir in parsley and season with salt and pepper. Serve with fries.
SHARE