Beef Stew With Greek Flavours
Winter 2001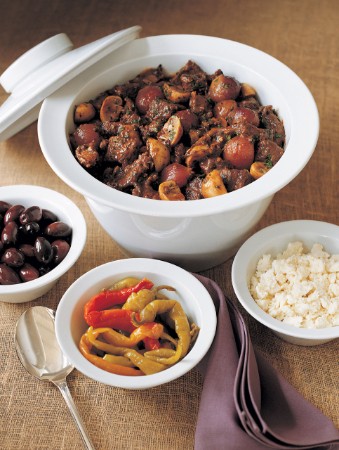 Beef Stew With Greek Flavours
Winter 2001
BY: Marilyn Bentz-Crowley
Rich, dark and hearty, this slowly simmered stew has a robust sauce that's perfect for dipping warm pita. Serve with garlic-mashed potatoes and pass small dishes of black kalamata olives, feta cheese and pickled pepperoncini peppers.
2 to 3 tbsp (25 to 45 mL) olive oil
3 lb (1.5 kg) lean stewing beef
2 garlic cloves, minced
1 tsp (5 mL) cumin seed
1/2 tsp (2 mL) ground cloves or allspice
5 1/2 oz (156 mL) can tomato paste
1 cup (250 mL) dry red wine
1 cup (250 mL) beef stock or broth
1 tbsp (15 mL) dried oregano
1 tbsp (15 mL) red wine vinegar
1 1/2 tsp (7 mL) granulated sugar
2 bay leaves
10 oz (284 g) pearl onions, about 2 cups (500 mL)
8 oz (250 g) small button mushrooms
1/4 cup (50 mL) chopped fresh parsley
1/2 tsp (2mL) salt
4 oz (125 g) Greek feta cheese, crumbled
6 to 8 pita
1. Heat 1 tbsp (15 mL) oil in a large pot over medium-high heat. Brown beef in batches. Remove each browned batch from pot, adding more oil as needed for the next batch. Add garlic, cumin seeds and cloves. Cook 1 minute, then return beef plus juices. Stir in tomato paste, wine, stock, oregano, vinegar, sugar, bay leaves and onions. Bring to a boil, stirring occasionally, then reduce heat. Cover and simmer 1 hour. Stir stew and continue simmering for 1 more hour or until beef is tender. Stew can be made 2 or 3 days ahead and refrigerated.
2. Cut mushrooms in half. Stir into hot stew along with parsley and salt. Heat until hot. Sprinkle each serving with feta cheese and serve with warmed pita.
SHARE