Beef Pot Roast with Fall Vegetables
Autumn 2012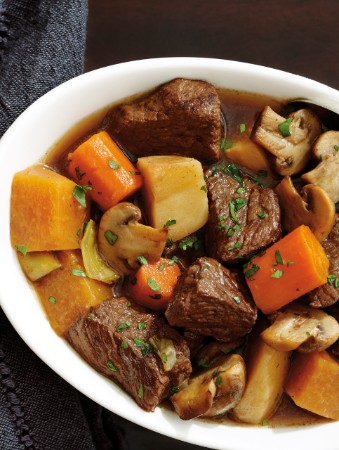 Beef Pot Roast with Fall Vegetables
Autumn 2012
BY: Nancy Won
The Church Key makes this with beef cheeks, which are difficult to find even at the butcher's. We redid the recipe using stewing beef cut from the chuck in 2-inch (5-cm) cubes to mimic the cheeks. The beef and the vegetables make a complete meal with a salad on the side.
1 cup (250 mL) red wine
3 cloves garlic, peeled
2 sprigs fresh thyme
2 lbs (1 kg) stewing beef,
cut in 2 inch (5 cm) pieces
¾ cup (175 mL) peeled rutabaga,
cut in 1 inch (2.5 cm) dice
¾ cup (175 mL) Spanish onion,
cut in 1 inch (2.5 cm) dice
¾ cup (175 mL) peeled parsnip,
cut in 1 inch (2.5 cm) dice
¾ cup (175 mL) peeled carrots,
cut in 1 inch (2.5 cm) dice
3 cups (750 mL) mini red potatoes,
peeled and quartered
1/3 cup (80 mL) vegetable oil
Salt and freshly ground pepper
1½ cups (375 mL) halved button mushrooms
1 cup (250 mL) leeks, dark green part discarded, cut into ½ inch (1 cm) rounds
4 cups (1 L) beef stock
2 bay leaves
2 tbsp (30 mL) chopped parsley

1 Combine red wine, garlic and thyme in a small pot. Bring to a boil and reduce mixtureby half, about 5 minutes. Set liquid aside to cool. Place meat in a bowl, add wine reduction and mix until beef is well coated. Set aside to marinate overnight, refrigerated.

2 Preheat oven to 425°F (220°C).

3 Combine rutabaga, onion, parsnip, carrots and potatoes in a bowl and toss with 2 tbsp (30 mL) oil, salt and pepper. Place on parchment-lined baking sheet and roast in the oven for 15 to 20 minutes or until vegetables have begun to soften and colour but are not fully cooked. Remove from oven.

4 Reduce oven heat to 325°F (160°C).

5 Add 1 tbsp (15 mL) oil to a skillet on medium high heat. Stir in mushrooms, leeks and a pinch of salt and pepper, tossing occasionally. Cook until the leeks have just begun to soften, about 3 minutes. Remove from heat and set aside.

6 Drain any liquid from beef and pat dry. Heat 2 tbsp (30 mL) oil in a heavy Dutch oven over high heat. When oil begins to smoke, reduce heat slightly and add beef in batches searing them on all sides for 1 to 2 minutes until nicely browned. Remove meat to a plate.

7 Slowly stir in the beef stock scraping any bits on the base of the pot. Add roasted vegetables, bay leaves and beef. Adjust liquid to make sure beef and vegetables are just covered.

8 Bring the stew to a boil, cover the pot tightly and place in oven. Cook for 1½ hours, add the leeks and mushrooms and cook another hour or until beef is fork-tender. Carefully remove the bay leaves, sprinkle with parsley and serve.
SHARE