Basic Fruit Juice Granita
Early Summer 2012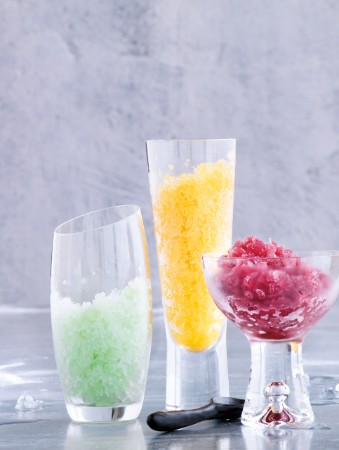 Basic Fruit Juice Granita
Early Summer 2012
BY: Christopher St. Onge
Granita can be made from just about any liquid good enough to sip. Whether it's fruit juice, coffee or even your favourite tea, the trick is only partly in the stirring and scraping, but also in adding the right ingredients in the right amounts. Sugar and alcohol both lower the freezing point of liquids. By using one or the other, or even both, you'll ensure your finished granita has a characteristically loose, icy texture.
BASIC FRUIT JUICE GRANITA:

Add ½ cup (125 mL) sugar to 4 cups (1 L) of your favourite fruit juice. Stir until sugar is dissolved and pour into a non-reactive baking dish, roughly 9 x 13-inches (3 L). Freeze for 1 hour. Stir to break ice apart and return to freezer for an additional 2 hours, or until frozen through. Using a fork, scrape granita into granules. If not consuming immediately, cover and return to freezer until ready to serve.

➤ While the above recipe works best with fruit juices, thicker fruit purées require a little more sugar. For best results with these, dissolve 1 cup (250 mL) sugar per 4 cups (1 L) of purée, and thin mixture with 1 cup (250 mL) water.

➤ Liquids without any natural sugars whatsoever, such as coffee or tea, will require a minimum of 1 cup (250 mL) of sugar per 4 cups (1 L) liquid.

➤ In all cases, adding more sugar than the suggested minimum will result in a granita with a softer texture.

➤ If you prefer to use alcohol rather than sugar to make your granita, you'll need ¼ cup (60 mL) liquor or liqueur, at least 40% alcohol, per 4 cups (1 L).

➤ Using both sugar and a small amount of your favourite liqueur can deepen, or even complement flavours. Whether adding almond liqueur to coffee granita, or Grand Marnier to a strawberry granita, always use the minimum amount of sugar suggested and as much as 2 tbsp (30 mL) of liqueur per 4 cups (1 L).

➤ Combining fruit juices and purées is another great way to customize your granita. Making a "fruit punch" version by blending juices prior to freezing can deliver more complex flavours, while individually frozen single-flavour granitas layered in serving glasses can dazzle with a rainbow of colour.

➤ Finally, keep in mind that many fresh fruit juices will turn brown over time and freezing them can speed this process. By adding a small amount of lemon or lime juice, 2 tsp (10 mL) to 4 cups (1 L) of fruit juice or purée, your granita will retain the fruit's vibrant colour.


SHARE