Baked Apples In Red Wine
Autumn 2001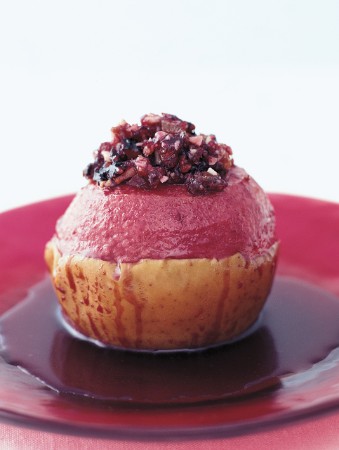 Baked Apples In Red Wine
Autumn 2001
BY: Lucy Waverman
Use an apple variety that holds its shape or the apples will collapse. Spys, Golden Delicious or Mutsu work well. The red wine is turned into a sauce after baking.
1/4 cup (125 mL) dried cranberries
1/4 cup (125 mL) pitted dates
1/4 cup (125 mL) chopped almonds
2 tbsp (25 mL) butter
4 apples
1 cup (250 mL) red wine
1/2 cup (125 mL) cranberry juice
1/2 cup (125 mL) granulated sugar
1. Preheat oven to 375°F (190°C).
2. Combine cranberries, dates, almonds and butter in food processor. Purée until pasty.
3. Peel top third of apple. Core making enough space for the filling but leave a little apple at the base. Divide puréed mixture into 4 and stuff into apples. Combine wine, cranberry juice and sugar in baking dish. Add apples.
4. Bake for about 50 to 60 minutes or until apples are tender when pierced with a toothpick. Baste occasionally with the sauce. Pour sauce into pot. Bring to boil, reduce until slightly thickened, about 7 to 8 minutes.
5. Place apples on 4 serving plates and pour over sauce.
SHARE