Bacon, Parsnip & Onion Pinchos
Autumn 2020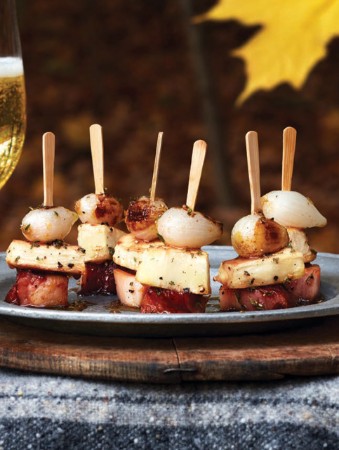 Bacon, Parsnip & Onion Pinchos
Autumn 2020
BY: Christopher St. Onge
It's hard to imagine a more autumnal flavour combination than bacon, parsnip, onion and apple cider. These dead-simple skewers are seriously more-ish. Look for slab-style double-smoked bacon behind the deli counter at large grocers and be sure to purchase in one thick piece.
1 can (473 mL) hard dry apple cider
⅓ cup (80 mL) firmly packed brown sugar
1 tbsp (15 mL) chopped thyme
½ tsp (2 mL) coarsely ground black pepper
14-oz (395-g) piece double-smoked bacon
2 large or 4 small parsnips, peeled
2 tsp (10 mL) olive oil
20 pearl onions
20 cocktail-length picks
Combine the cider and sugar in a medium pot over high heat. Let boil until syrupy and reduced to ½ cup (125 mL). Stir in thyme and pepper; set aside.


Preheat oven to 400°F (200°C).


Cut bacon into 20 equal-sized chunks; arrange on one-half of a parchment-lined baking sheet. Cut parsnips into 20 pieces roughly the same size as the bacon. Drizzle with oil and arrange on other half of baking sheet. Roast for 20 minutes.


Meanwhile, bring a small pot of water to a boil. Trim roots from onions, leaving bulbs intact; do the same to the stem end of each. Drop into boiling water and cook 1 minute; drain in a colander and rinse under cool water until easy to handle. Slip skins from onions.


Add to baking sheet at the 20 minute mark and give everything a good stir; roast 10 minutes longer.


Skewer 1 onion, 1 piece of parsnip and 1 piece of bacon on each skewer. Brush with cider glaze and serve warm.
SHARE