Autumn Squash Chowder
Autumn 2012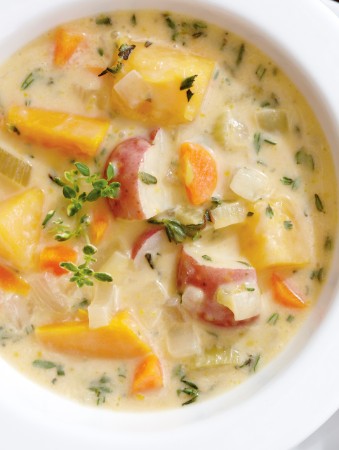 Autumn Squash Chowder
Autumn 2012
BY: Nancy Won
Here's a chunky soup with lots of flavour. A mixture of different kinds of squash such as butternut, buttercup, Hubbard, acorn or sweet dumpling gives depth to the soup.
3 tbsp (45 mL) butter
1½ cups (375 mL) chopped onion
1 cup (250 mL) chopped carrots
1 cup (250 mL) chopped celery
½ cup (125 mL) chopped leek, white part only
3 cloves garlic, sliced
Salt and freshly ground pepper
¼ cup (60 mL) white wine
2 tbsp (30 mL) flour
5 cups (1.25 L) vegetable stock
1½ cups (375 mL) red potatoes,
cut in 1 inch (2.5 cm) pieces
3 cups (750 mL) assorted autumn squash,
cut in 1 inch (2.5 cm) pieces
1 tbsp (15 mL) chopped fresh thyme
1 tsp (5 mL) chopped fresh rosemary
2 bay leaves
½ cup (125 mL) whipping cream
½ tsp (2 mL) hot pepper sauce, or to taste
1 Melt butter over medium heat in soup pot.Add onion, carrot, celery, leek and garlic andcook for 5 minutes or until softened. Seasonwith salt and pepper.

2 Add white wine and reduce for 2 minutes.Sprinkle flour over vegetables and cook togetherfor another 2 minutes or until flour isfully absorbed. Gradually add vegetable stock,stirring together with the vegetables untilincorporated. Bring to boil then add potato,squash, thyme, rosemary and bay leaves.

3 Turn heat down to medium-low and simmerfor 15 to 20 minutes, occasionally stirring.Add cream, hot pepper sauce, and simmer for5 minutes until flavours are amalgamated.Season with salt and pepper.


SHARE