Autumn Fruit Ginger Crumble Pie
Autumn 2012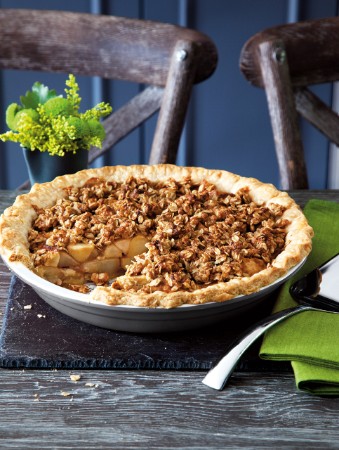 Autumn Fruit Ginger Crumble Pie
Autumn 2012
BY: Jennifer MacKenzie
The fresh crop of just-picked apples inevitably makes us all think of warm apple pie. Add fragrant pears to the mix and the kick of ginger in a crunchy crumble topping and it gets even better. Choose cooking apples that hold their shape when baked: Northern Spy, Crispin, Empire and Spartan are good choices. For pears, choose just ripe (not too hard, not too soft) Bartlett, Bosc or Flemish Beauty for the best flavour and texture. You need a deep-dish pie crust for this very full pie. The pre-made frozen crusts aren't deep enough so it's best to use your favourite recipe or use the pastry recipe from Individual Cherry Tart Tatins at lcbo.com.
Pastry for 1 single-crust pie (9 inch/23 cm)
3 cups (750 mL) peeled and sliced cooking apples (about 2 large)
3 cups (750 mL) peeled and sliced pears (about 3)
3 tbsp (45 mL) fresh lemon juice
1/3 cup (80 mL) packed brown sugar
¼ cup (60 mL) all-purpose flour
½ tsp (2 mL) ground ginger
¼ tsp (1 mL) ground cinnamon

GINGER CRUMBLE
¾ cup (175 mL) rolled oats
¼ cup (60 mL) all-purpose flour
3 tbsp (45 mL) packed brown sugar
2 tbsp (30 mL) finely chopped crystallized ginger
1/3 cup (80 mL) butter, cut into pieces
1 Preheat oven to 450°F (230°C).

2 On a floured surface, roll out pastry and fit into a 9-inch (23-cm) glass deep-dish pie plate; flute edges with a ridge ½ inch (1 cm) above edge of the pie plate. Chill while preparing filling.

3 Place apples, pears and lemon juice in a large bowl. Sprinkle with sugar, flour, ginger and cinnamon and toss together. Spoon filling and any juices into pie shell, packing gently. Place pie plate on a baking sheet to catch any juices.

4 For crumble, combine oats, flour, sugar and ginger in a large bowl. Cut in butter until mixture clumps together. Sprinkle crumble over fruit.

5 Bake in bottom third of oven for 15 minutes or until pastry edge looks cooked. Reduce heat to 375°F (190°C) and bake for another 50 minutes or until juices are bubbling and thick and topping is brown.
SHARE