Asparagus Salad, Caesar-Style
Early Summer 2017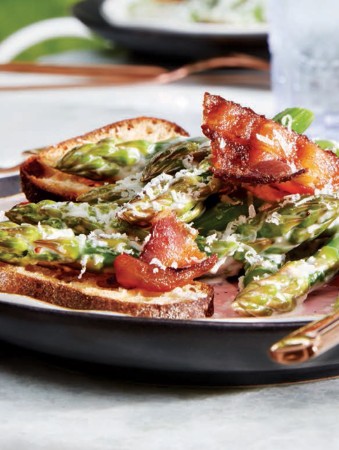 Asparagus Salad, Caesar-Style
Early Summer 2017
BY: Marilyn Bentz-Crowley
3 lbs (1.5 kg) fresh asparagus
⅔ cup (150 mL) creamy-style Caesar dressing
8 to 16 crisp toasts (see TIP)
8 to 16 slices bacon, cooked to a crisp
½ cup (125 mL) freshly-grated Parmesan cheese
1. Snap off woody end of each asparagus. Save the ends to make vegetarian stock or discard. Slice asparagus diagonally approximately every inch (2.5 cm).

2. Drop cut asparagus into rapidly boiling water. Cook for 3 minutes. Drain and rinse under cold running water. Drain well: it can be covered and refrigerated for up to a day.

3. Toss asparagus with dressing to taste. Place in small heaps in serving bowls. Tuck a toast or 2 to the side and add 1 or 2 slices of bacon, either whole or coarsely cut up.

4. Scatter Parmesan overtop. Serve right away accompanied by additional toasts.
TIP For toasts, cut day-old baguette, ciabatta or rustic white bread into very thin slices. Lightly drizzle a baking pan or 2 with olive oil. Lay toasts in a single layer. Bake 15 minutes in preheated 300°F (150°C) oven. Turn toasts and continue baking for 10 to 15 minutes or until very dry with edges beginning to get golden. Cool and store air tight. Use as a giant crouton in salads or serve as crackers with cheese or soup.
SHARE