Asparagus and King Mushroom Salad with Crisp Prosciutto
Spring 2009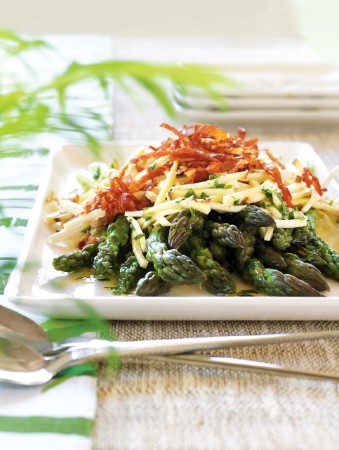 Asparagus and King Mushroom Salad with Crisp Prosciutto
Spring 2009
BY: Lucy Waverman
This is a lovely first course before a spring dinner or at Easter. Omit the prosciutto if you want a vegetarian version. Thick-stemmed asparagus needs to be peeled, but the thinner ones don't.
Dressing
2 tbsp (25 mL) fresh lemon juice
2 tbsp (25 mL) fresh orange juice
2 tsp (10 mL) chopped fresh tarragon, or 1⁄2 tsp (2 mL) dried
1⁄3 cup (75 mL) olive oil
Salt and freshly ground pepper

Salad
2 lbs (1 kg) asparagus preferably with thick stems
3 tbsp (45 mL) olive oil
4 slices prosciutto slivered
8 oz (250 g) king mushrooms, cut into matchstick-size pieces
2 tsp (10 mL) chopped garlic
1. Whisk together lemon and orange juice and tarragon. Whisk in olive oil. Season with salt and pepper.

2. Peel asparagus stems if they are thick. Bring a large skillet of salted water to boil and plunge in asparagus. Boil for 2 to 4 minutes depending on size or until crisp-tender. Drain well and pour over cold water until asparagus is cold. Drain well and reserve.

3. Heat olive oil in skillet on medium heat and add prosciutto. Sauté until crisp, about 1 minute. Remove prosciutto to drain on paper towels. Add mushrooms and garlic to pan. Sauté until mushrooms are tender, about 2 to 3 minutes.

4. Place asparagus on platter, top with mushrooms and drizzle over dressing. Sprinkle over prosciutto.
SHARE