Asian Greens Salad with Grilled Tofu, Miso Dressing & Soy-Glazed Sesame Seeds
Early Summer 2017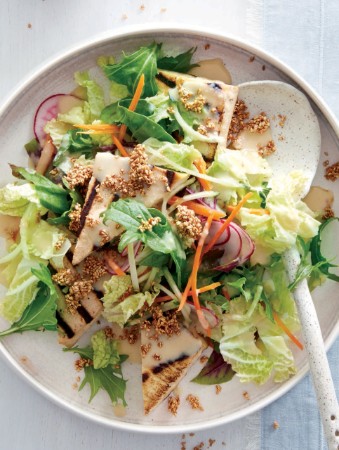 Asian Greens Salad with Grilled Tofu, Miso Dressing & Soy-Glazed Sesame Seeds
Early Summer 2017
BY: Jennifer MacKenzie
Sesame seeds and miso blend into a thick, creamy dressing that's tangy with lemon and a touch of ginger zip. The nutty sesame and umami from the miso make the pungent, slightly bitter and sweet flavours of Asian greens lively indeed. Grilled soy-marinated tofu and salty-sweet glazed seeds (see TIP) on top are the crowning touch on this hearty starter or light main course salad.
GRILLED TOFU
1 block (350 to 420 g) firm or extra-firm tofu, drained
¼ cup (60 mL) soy sauce
2 tbsp (30 mL) fresh lemon juice
1 tsp (5 mL) sriracha or other hot sauce

SOY-GLAZED SEEDS
⅓ cup (80 mL) sesame seeds
1 tsp (5 mL) granulated sugar
1 tbsp (15 mL) soy sauce

MISO DRESSING
1 slice fresh ginger, ½ inch (1 cm), peeled
¼ cup (60 mL) vegetable oil
3 tbsp (45 mL) fresh lemon juice
2 tbsp (30 mL) yellow or white miso
2 tbsp (30 mL) water
Salt

SALAD
8 cups (2 L) mixed Asian salad greens, such as shredded baby bok choy, baby tatsoi, en choy, mustard greens, shredded napa cabbage
⅓ English cucumber, julienned
1 carrot, julienned
½ cup (125 mL) thinly sliced daikon or 4 red radishes, thinly sliced
1. Cut block of tofu crosswise into 2 or 3 slices ½ inch (1 cm) thick (depending on size of block). Press slices between paper towels to dry. In a shallow dish, combine soy sauce, lemon juice and sriracha; add tofu in a single layer and turn to coat. Cover and marinate in the refrigerator, turning occasionally, for at least 1 hour or for up to 1 day.

2. For the seeds, line a plate or baking sheet with parchment paper. Toast sesame seeds in a small skillet over medium heat, stirring, for about 5 minutes or until golden. Remove from heat and transfer 1 tbsp (15 mL) to a bowl; set aside. Add sugar and soy sauce to seeds in skillet. Return to medium heat and cook, stirring constantly, for about 1 minute or until dry and glazed. Quickly spread out on parchment paper and let cool completely. Crumble seeds into small clumps, as necessary.

3. Combine the 1 tbsp (15 mL) reserved toasted sesame seeds, ginger, oil, lemon juice, miso and water in a blender—or in a tall cup to use an immersion blender—and purée until smooth. Add salt to taste. Let stand for up to 1 hour or cover and refrigerate for up to 1 day.

4. Just before serving, preheat barbecue grill to medium and oil grill rack, or preheat broiler with rack positioned 4 inches (10 cm) from heat. If using broiler, line a baking sheet with foil; lightly oil foil.

5. Remove tofu from marinade, discarding excess marinade. Place on grill or lined baking sheet. Grill or broil for about 5 minutes per side, turning once, or until browned on the outside and heated through. Transfer to a cutting board and cut into triangles or strips.

6. Toss mixed greens with about half of the dressing in a large bowl; arrange on plates and top with cucumber, carrots and radishes. Add tofu and drizzle with remaining dressing. Sprinkle with glazed sesame seeds.
TIP If you're making the glazed seeds a day or a few hours ahead of serving, they may soften. About 15 minutes before serving, heat in a skillet over medium heat, stirring constantly, for 1 to 2 minutes or until dry, then spread out on parchment to cool.
SHARE