Arctic Rye and Ginger
Summer 2017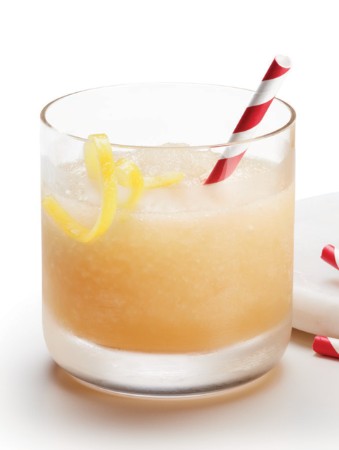 Arctic Rye and Ginger
Summer 2017
BY: Eric Vellend
Sweet, sour and a little spicy, this drink reimagines the great Canadian Highball as a frozen cocktail. Since it is watered down with ice, it benefits from a higher proof whisky such as Crown Royal Northern Harvest Rye (LCBO 434092). To cut a long, thin lemon twist, you will need a channel knife, a worthy investment for any home bar. Otherwise garnish the drink with a lemon slice.
4 oz Canadian rye whisky
2½ oz Ginger Maple Syrup (recipe follows)
2 oz strained fresh lemon juice
2 cups (500 mL) ice cubes
2 long thin lemon twists
Short straws
1. Pour whisky, Ginger Maple Syrup and lemon juice into an airtight container. Freeze at least 6 hours and up to 2 days. The mixture will stay liquid because of the alcohol.

2. Place 2 lowball glasses in freezer for at least 30 minutes.

3. Pour drink mixture into blender and add ice. Blend until smooth. Divide among chilled glasses. Garnish with lemon twists and serve with straws.

GINGER MAPLE SYRUP
In addition to sweetening cocktails, this zippy maple syrup is delicious drizzled on pancakes, waffles or French toast, though it may be too piquant for small children. The most efficient way to peel ginger is to scrape it with a spoon.

3 oz (90 g) fresh ginger
1 cup (250 mL) pure maple syrup
1. Peel ginger and finely grate on a rasp set over a medium bowl to capture juice. You should have approximately ¼ cup (60 mL). Whisk in maple syrup. Cover and let stand at room temperature for 1 hour.

2. Fine strain into bowl, pressing on solids to extract syrup. Transfer to glass jar with lid. Refrigerate up to 2 weeks.
Makes 1 cup plus 2 tbsp (280 mL)
SHARE