April in Paris
Spring 2017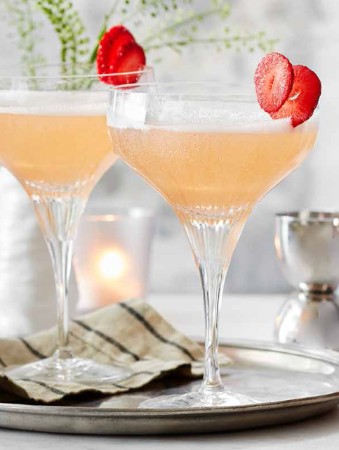 April in Paris
Spring 2017
BY: Matt Millard, Bartender
Matt Millard named this suave cocktail after the song recorded by Ella Fitzgerald and Louis Armstrong—a favourite of his parents when they hosted parties.
1/3 oz (10 g) pink peppercorns
7 oz (200 g) strawberries, hulled and quartered
15 large mint leaves
1 fresh bay leaf (optional)
¼ cup (60 mL) white sugar
2½ oz Grey Goose Vodka
2 bottles (each 750 mL) off-dry (not Brut) sparkling wine
Lemon twist
1 Muddle the pink peppercorns in the bottom of the French press. Add the strawberries (saving 10 quarters for garnish), mint leaf and bay leaf and stir lightly. Add sugar, evenly coating ingredients, and refrigerate for 8 to 12 hours.

2 When ready to serve, pour in vodka and push down plunger on French press. Pour ½ oz into a Champagne flute or coupe and top with 5 oz off-dry or sweet sparkling wine. Squeeze lemon twist on the surface of the drink; discard lemon. Garnish each drink with a quartered strawberry.
SHARE