Apple Crêpes With Extra-Old Cheddar And Maple Yogurt
Autumn 2008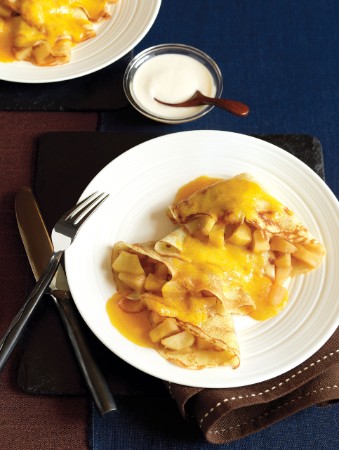 Apple Crêpes With Extra-Old Cheddar And Maple Yogurt
Autumn 2008
BY: Tonia Wilson-Vuksanovic
Make sure to use Ontario-grown apples for this dish. Empire, McIntosh or Spartan apples are all in season and make terrific partners for the flavoursome Cheddar. This is a very versatile dish that can be served as dessert one day and a great lunch leftover served with a crisp salad the next.
Crêpes
2 egg yolks plus 1 whole egg
2 tbsp (25 mL) granulated sugar
1 tbsp (15 mL) vanilla extract
2 tbsp (25 mL) dark rum, brandy or orange liqueur
¼ cup (50 mL) plus 1 tbsp (15 mL) unsalted butter, melted (for crêpe batter)
1 cup (250 mL) all-purpose flour
1½ cup (375 mL) milk

Yogurt
¾ cup (175 mL) plain yogurt (with at least 2% fat content)
2 tbsp (25 mL) maple syrup

Apples
3 tbsp (45 mL) unsalted butter
3 large apples (about 1½ lb/750 g), peeled and finely diced
1 tsp (5 mL) fresh ginger, finely grated
⅛ tsp (0.5 mL) salt
½ tsp (2 mL) ground cinnamon
1 tsp (5 mL) corn starch
¼ cup (50 mL) apple juice or water
¼ cup (50 mL) dark brown sugar
1½ cups (375 mL) extra-old cheddar
¼ cup (50 mL) vegetable oil
1. In a medium bowl, whisk together egg yolks, egg, sugar, vanilla, rum, butter, flour and half of milk until smooth. Once there are no longer lumps whisk in the rest of the milk. Let rest for at least 2 hours or overnight.

2. Stir together yogurt and maple syrup, refrigerate until ready to serve.

3. In a medium sauté pan, melt 3 tbsp (45 mL) butter over medium heat, add apples, ginger, salt and cinnamon and sauté until apples are fork tender, about 12 minutes.

4. In a small glass stir together corn starch and apple juice until starch is dissolved. Add to apples along with brown sugar. Cook until sugar has dissolved and mixture has thickened, about 1 minute.

5. Lightly brush a nonstick sauté pan with vegetable oil. The bottom of the pan should have a surface area of about 8 inches (20 cm).

6. Heat pan over medium-high heat until hot. Use a ¼ cup (50 mL) measuring cup as a ladle.

7. Fill measuring cup almost to the top with batter, pour batter into pan while swirling the pan with the other hand. Evenly coat bottom of pan with batter.

8. Cook crepe on one side until lightly golden, about 1 minute. Using a thin spatula flip the crepe over and continue to lightly brown the other side, about 30 seconds.

9. Place crepe on a clean plate and repeat process to cook the rest of the crepes. The batter should make about 15 crepes.

10. Place a heaping tbsp (15 mL) of apple mixture in the centre of each crepe, fold in half and then into quarters, repeat until all are filled. Lightly press crêpe to evenly disperse the apple mixture. Place the filled crepes in a buttered 7 x 11-inch (2-L) baking dish, slightly layering each on top of the other.

11. Sprinkle crepes with cheese and bake in a 400ºF (200ºC) oven until cheese is lightly golden.

12. Serve crepes warm with a dollop of maple yogurt.
SHARE