Amaretto Almond Salted Caramel Popcorn
Holiday 2018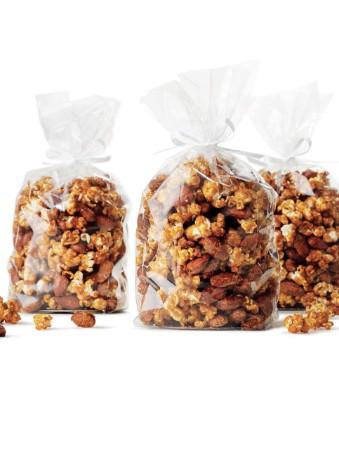 Amaretto Almond Salted Caramel Popcorn
Holiday 2018
BY: Donna Borooah
Cooking the caramel to 325°F (160°C) gives this popcorn crunch and complex flavour. Check the temperature with a clip-on candy thermometer or an instant-read thermometer. Baking soda gives the caramel coating a light, airy texture to evenly coat the popcorn and almonds. For the classic popcorn shape and texture, pick jumbo yellow popping corn.
1 tbsp (15 mL) canola oil
⅓ cup (80 mL) yellow popcorn kernels
⅓ cup (80 mL) unsalted butter
½ cup (125 mL) packed brown sugar
3 tbsp (45 mL) corn syrup
¾ tsp (4 mL) flaky sea salt
½ tsp (2 mL) baking soda
2 oz (55 mL) amaretto liqueur
1½ cups (375 mL) salted roasted almonds
1. Preheat oven to 250°F (120°C). Line a baking sheet with parchment paper.

2. Heat oil in a large heavy pot over medium heat. Add popcorn kernels and cook, stirring often, until they sizzle, about 1 minute. Cover and cook, shaking often, until popping subsides, 2 to 3 minutes. Transfer popcorn to a large bowl and discard any unpopped kernels. You should have about 6 cups (1.5 L) popcorn. Wipe pot clean with paper towels.

3. Return pot to stove and melt butter over medium- high heat. Add sugar and corn syrup and stir just to combine. Cook, without stirring, until deep amber and temperature reaches 325°F (160°C), about 4 minutes.

4. Remove from heat, add salt and baking soda and stir until foamy. Carefully stir in amaretto; mixture will sputter. Immediately add popcorn and almonds and stir until evenly coated.

5. Scrape onto prepared baking sheet and bake for 1 hour, stirring every 15 minutes. Break up any large clusters with a spoon and cool completely on baking sheet, then transfer to airtight container and store for up to 1 week.
Makes about 8 cups (2 L).
TIP This recipe doubles well. Arrange oven racks in upper and lower thirds. Use an extra-large pot to pop corn kernels and cook caramel, then divide popcorn-almond mixture between 2 parchment-lined baking sheets. Bake for 1 hour, stirring every 15 minutes, and rotate baking sheets midway.
SHARE