All the Vegetables Platter with Three Dips
Summer 2020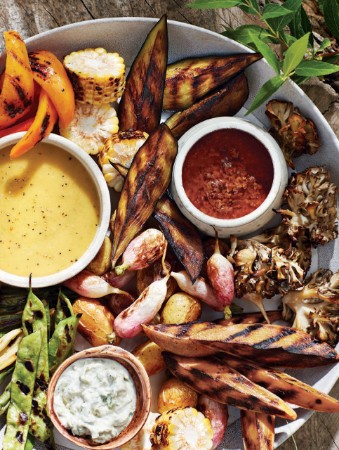 All the Vegetables Platter with Three Dips
Summer 2020
BY: Christopher St. Onge
Peak summer brings peak veg. Make the most of it by throwing everything on the grill and serving with one, or all three, dips (recipes below). Each dip makes enough for about 1½ to 2 lbs (680 to 905 g) vegetables so if opting for only one or two dips, scale up your dip of choice depending on the weight of the produce.
There isn't a single local and in-season veg that doesn't take to the grill, especially a charcoal-fired grill. Pick your favourites, cut them into bite-sized pieces, chunks or slices, or leave them whole. Give them a quick toss with enough olive oil to coat and season with salt and pepper. Oil your grill and preheat to 400°F (200°C)—you're after tenderness and char.
CHORIZO BUTTER
True Spanish chorizo is ready to eat and characterized by its so texture and a ruddy colour from the ample amount of smoked paprika used to flavour the sausage. It's essential to the flavour of the finished butter, lending a combination of pork fat, pimentón and garlic to the dip. A food processor makes quick work of finely chopping the chorizo.


½ cup (125 mL) unsalted butter
2 oz (55 g) Spanish chorizo, hot or mild, casing removed, finely chopped
1½ tsp (7 mL) dried marjoram or oregano
¼ tsp (1 mL) smoked paprika
1 tsp (5 mL) sherry or red wine vinegar
Salt and pepper
1. In a small pot, melt the butter over low heat; add the chorizo, marjoram, paprika and vinegar. Bring to a very gentle simmer and immediately remove from heat. Cover and let stand 10 minutes; check seasoning and season with salt and pepper to taste. Serve warm. Dip may be made 2 days in advance, refrigerated and gently rewarmed before serving.

GARLICKY DIJON VINAIGRETTE
With pickier eaters in mind, this one sticks with quieter flavours. Honey, Dijon and thyme—what's not to like?

2 tbsp (30 mL) lemon juice
1 tsp (5 mL) finely grated lemon zest
1 tbsp (15 mL) Dijon mustard
2 tsp (10 mL) liquid honey
2 cloves garlic, finely grated
1 tsp (5 mL) chopped thyme
½ cup (125 mL) olive oil
Salt and pepper
1. In a small bowl, whisk together lemon juice, zest, Dijon and honey until honey is dissolved. Add garlic and thyme. Whisking constantly, slowly drizzle oil into bowl. Season with salt and pepper to taste. Dressing may be made up to 2 days in advance, refrigerated and brought back to room temperature before serving.

WARM BLUE CHEESE DIP
The funky flavours of blue cheese are spot on with smoky grilled vegetables. It's best served warm—not too hot—to let the flavours shine.

4 oz (115 g) cream cheese, softened, cut into chunks
¼ cup (60 mL) sour cream
3 tbsp (45 mL) mayonnaise
1 tbsp (15 mL) water
1 tsp (5 mL) Worcestershire sauce
Dash hot sauce
½ tsp (2 mL) coarsely ground black pepper
1 tsp (5 mL) white wine vinegar
2 oz (55 g) crumbled blue cheese
3 green onions, white and light green parts only, chopped


1. Combine cream cheese, sour cream, mayonnaise and water in a small saucepan over medium heat; whisk until smooth and hot. Remove from heat and stir in remaining ingredients. Do not overmix—there should be visible chunks of blue cheese. Serve warm. The dip is best the day it's made.
Makes about 1 cup (250 mL)
SHARE