Gluten-Free Buckwheat Brownies
Holiday 2020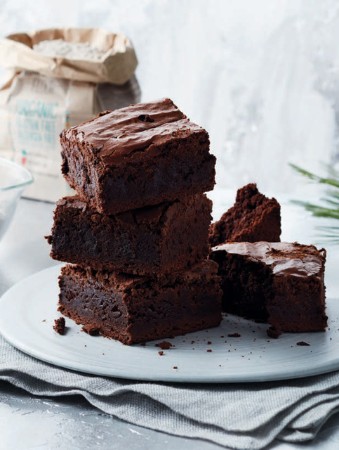 Gluten-Free Buckwheat Brownies
Holiday 2020
BY: Eric Vellend
Buckwheat flour adds a beguiling earthy note that pairs beautifully with chocolate in these decadent, gluten-free brownies. Placing the pan on a baking sheet helps diffuse the oven's heat and ensures moist, evenly cooked brownies. For squares with neat edges, refrigerate the cooled pan before cutting into squares.
Baking spray

1/2 cup (125 mL) buckwheat flour
1/2 cup (125 mL) all-purpose gluten-free flour
1/2 cup (125 mL) cocoa powder
1 tsp (5 mL) baking powder
1/2 tsp (2 mL) fine sea salt
10 oz (285 g) semi-sweet chocolate, coarsely chopped
1 cup (250 mL) unsalted butter, diced
4 large eggs, at room temperature
2¼ cups (560 mL) light brown sugar, packed
1½ tsp (7 mL) pure vanilla extract
1. Preheat oven to 350°F (180°C). Lightly spray a 9 x 13-inch (23 x 33-cm) metal baking pan with baking spray. Line bottom and long sides with a single piece of parchment paper. (This will make it easy to remove brownies.)

2. In a mixing bowl, sift flours, cocoa and baking powder. Stir in salt. Set aside.

3. In a heatproof bowl set snugly over a pan of gently simmering water (water should not touch bowl), melt chocolate and butter, stirring occasionally, until smooth. Remove bowl from heat and place on folded kitchen towel.

4. In a bowl of a stand mixer fitted with a paddle, beat eggs and sugar on medium-high speed until pale and thick, about 3 minutes. Reduce speed to low. Add vanilla. Slowly pour in the chocolate mixture. Gradually add flour mixture until combined, stopping to scrape down the bowl once. Pour batter into pan. Gently shake the pan to even out the batter. Place pan on a baking sheet.

5. Bake on the middle rack until a toothpick inserted in the centre comes out with moist crumbs attached, about 40 minutes. Cool completely before cutting into 2-inch (5-cm) squares.
SHARE