Mexican Beer Baked Beans
Winter 2001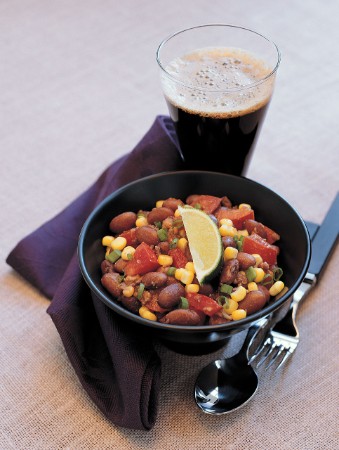 Mexican Beer Baked Beans
Winter 2001
BY: Marilyn Bentz-Crowley
The beans need no pre-soaking, just time to slowly bake, becoming tender and absorbing flavours in the process. At the end of baking, a splash of lime juice and a sprinkling of coriander add freshness, while plum tomatoes and corn add delicious texture. If you add hot sausage, the beans will be fiery. For a main meal, serve with rice, crisp green salad and warm flour tortillas.
1/2 lb (250 g) hot or sweet chorizo or Italian sausage (optional)
1 tbsp (15 mL) vegetable oil
1 large onion, diced
4 garlic cloves, minced
1 tbsp (15 mL) cumin seed
1 tbsp (15 mL) chili powder
1 tbsp (15 mL) ground coriander
1/2 to 1 tsp (2 to 5 mL) crushed chilies
2 bay leaves
1 lb (500 g) dried pinto, small Mexican red or romano beans
2 jalapeño peppers, seeded and minced
1 bottle (341 mL) dark beer or ale
5 cups (1.25 L) boiling water
6 large plum tomatoes, diced
1 cup (250 mL) frozen corn kernels
1/2 tsp (2 mL) salt
Juice of 1 lime
1/4 cup (50 mL) chopped fresh coriander or 1/2 cup (125 mL) thinly sliced green onions
1. Preheat oven to 325°F (160°C). Chop chorizo or remove Italian sausage from casing and crumble, if using. Heat oil in a large frying pan. Sauté onion, sausage (if using) and garlic for 5 minutes or until onion has softened. Stir in cumin, chili powder, coriander and crushed chilies. Turn into a 3 qt (3 L) casserole dish and add bay leaves.
2. Pick over beans and rinse under cold running water. Drain and add to onion mixture. Stir in jalapenos. Pour in beer and boiling water. Beans should be totally covered with liquid. Cover and bake without stirring for 2 hours. Then stir and check level of liquid, beans should be almost covered with liquid. Continue baking for 30 to 60 minutes or until beans are tender and sauce is reduced and thickened. Remove bay leaves. Beans can be covered and refrigerated for several days or frozen.
3. Stir tomatoes with corn, salt, juice and coriander just before serving. Stir mixture into hot beans and serve. Heated leftover beans are delicious rolled into a burrito or topped with grated Monterey Jack or cheddar for nachos.
SHARE