Wild Rice and Cranberry Stuffing
Temps des Fêtes 2001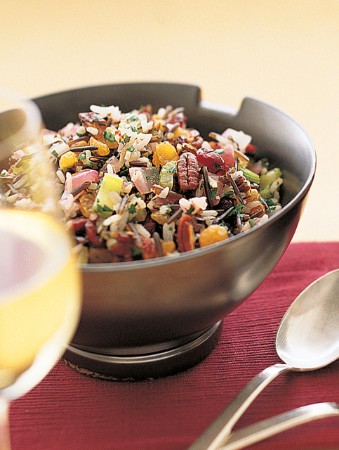 Wild Rice and Cranberry Stuffing
Temps des Fêtes 2001
BY: Lucy Waverman
The stuffing can be made a day ahead of time and baked when needed. It can also be stuffed into the bird, if desired. This is a good side dish served with any poultry or fish.
1/4 cup (50 mL) butter
2 cups (500 mL) chopped red onion
1 cup (250 mL) chopped celery
5 cups (1.25 L) chicken stock or water
1 1/4 cups (300 mL) wild rice
1 1/4 cups (300 mL) long-grain white rice
1 1/2 cups (375 mL) dried cranberries
1 cup (250 mL) golden raisins
1 tsp (5 mL) dried thyme
1 tsp (5 mL) dried marjoram
1 tsp (5 mL) dried sage
1 cup (250 mL) toasted pecans, chopped coarsely
1/4 cup (50 mL) chopped fresh parsley
Salt and freshly ground pepper
1. Melt 2 tbsp (25 mL) butter in large skillet over medium heat. Add red onion and celery and sauté until soft, about 4 to 5 minutes. Set aside.

2. Bring stock to a boil in a large saucepan. Add wild rice, bring to boil. Reduce heat, cover and simmer 30 minutes. Stir in white rice, cover and simmer until liquid is almost absorbed, about 15 minutes longer.

3. Stir cranberries, raisins, thyme, marjoram, sage, red onions and remaining butter into rice. Cover and simmer 3 more minutes. Mix in pecans and parsley. Season with salt and pepper

4. Preheat oven to 350°F (180°C). Butter 13 x 9-inch (3-L) baking dish. Transfer stuffing to prepared dish. Cover dish with buttered foil, buttered-side down, bake until heated through, 35 to 45 minutes.
Makes about 8 cups (2 L) dressing
SHARE