Wild Berry Zinger Punch
Holiday 2003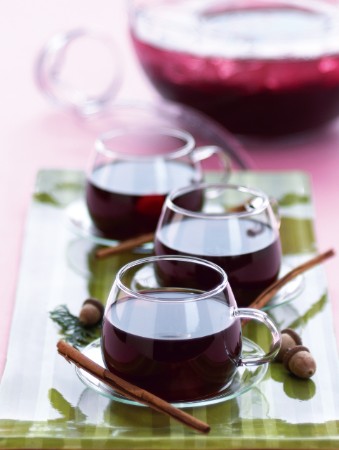 Wild Berry Zinger Punch
Holiday 2003
BY: Dana Speers
Wild berry tea gives this juicy punch an intense berry flavour. If you prefer a stronger punch, add some more rum.
18 cups (4.5 L) water
2 cups (500 mL) sugar
12 cinnamon sticks
16 whole cloves
48 wild berry herbal tea bags
12 cups (3 L) chilled fruity red wine-try
2 cups (500 mL) amber rum, or to taste
Juice of 2 lemons
4 cups (1 L) blackberries, or raspberries, cut in half

Garnish
Cinnamon sticks
1. In a large pot, heat the water, sugar, cinnamon sticks and cloves until boiling. Add tea bags and remove pot from heat. Steep the tea until cool.
2. Squeeze tea bags over pot to release as much liquid as possible. Discard tea bags. Transfer tea to a large punch bowl. Add red wine, rum and lemon juice and stir. Add blackberries and an ice ring.
3. Garnish each serving with a cinnamon stick.
SHARE