White Chili with Coriander Cream
Holiday 2014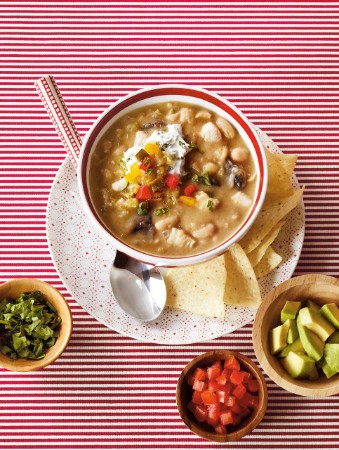 White Chili with Coriander Cream
Holiday 2014
BY: Marilyn Bentz-Crowley
Here hot peppers quickly add up to "quite spicy" without using conventional chili powder. Use up the remains of your holiday turkey—or purchase a roasted chicken. Herdez and La Costeña brands of green salsa are both very good; both are made with green tomatillos instead of red tomatoes and are found in the Mexican section of the supermarket.
CORIANDER CREAM & FRESH PEPPER GARNISH
1½ cups (375 mL) sour cream
1 large lime, zest and juice
¼ cup (60 mL) finely chopped fresh coriander
½ tsp (2 mL) salt
1 each of fresh sweet red pepper, sweet yellow pepper and large jalapeño, roasted, skinned, seeded and diced

CHILI
1 tbsp (15 mL) vegetable oil
2 cups (500 mL) chopped onion
2 large cloves garlic, minced
1 tbsp (15 mL) ground cumin
2 tsp (10 mL) salt
6 cups (1.5 L) home-cooked Great White Northern or white kidney beans or 3 cans (each 540 mL) white kidney beans, drained
4 cups (1 L) homemade turkey or chicken stock, or 1 box (900 mL) chicken broth
2 cups (500 mL) sliced fresh mushrooms
1 can (127 mL) roasted and chopped jalapeños, drained
¼ to ½ cup (60 to 125 mL) green salsa
3 to 4 cups (750 mL to 1 L) bite-size pieces of cooked turkey or chicken
½ cup (125 mL) chopped fresh coriander
1 Stir sour cream with fine zest and juice from lime, coriander and salt; cover. Stir roasted pepper dice together to form a colourful medley; cover. Promptly refrigerate both until serving chili, up to 2 days. (Roasted pepper medley can be made way ahead; place in plastic bag, exclude air, and freeze until needed.)

2 Heat oil in a large pot over medium heat. When hot, stir in onion, garlic, cumin and salt; cook 5 minutes or until onion has softened.Meanwhile, use a potato masher to break up half of beans into a coarse purée, leaving other half whole.

3 Add stock to onion mixture; stir in beans, both mashed and whole, mushrooms, chopped canned jalapeños and ¼ cup (60 mL) salsa. Bring to a boil, stirring frequently. Reduce heat, partially cover, and simmer 15 minutes, stirring occasionally.

4 Stir in turkey and coriander; add more stock or water only if needed. Taste; add more salsa if greater spiciness is desired. Heat until hot and bubbling. (Chili can be covered and promptly refrigerated for 2 to 3 days.)

5 Serve in warmed bowls topped with a dollop of sour cream, drizzle of additional green salsa, sprinkling of roasted pepper medley and additional chopped coriander. When serving, have an array of grated cheese, chopped tomatoes, thinly sliced green onions and diced avocado to let guests personalize their bowlfuls—and pass tortilla chips to munch.
SHARE