White Bean Bagna Cauda
Summer 2018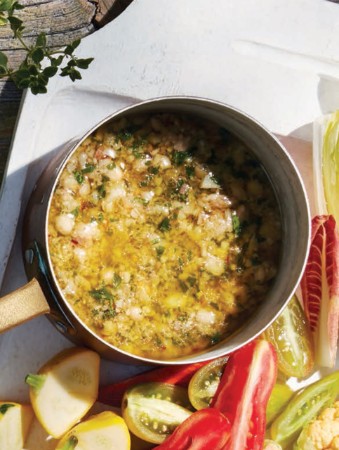 White Bean Bagna Cauda
Summer 2018
BY: Christopher St. Onge
Bagna Cauda is a dip made mostly of olive oil, garlic and anchovies, served warm with crisp vegetables for dipping. While it's an autumn tradition in Piedmont, I can't imagine not eating at least one potful during the summer with cool fennel and an array of other seasonal vegetables. Here, I've added untraditional cooked beans to the pot, making a more substantial dip of it—10 minutes of work or so and you can call it dinner. It's really good spooned over grilled bread, roasted broccoli or as a dip for croutons.
1 cup (250 mL) cooked, drained cannellini or white kidney beans (canned is fine)
2 tsp (10 mL) lemon zest
Pinch dried chili flakes
1 tbsp (15 mL) chopped thyme
2 tbsp (30 mL) chopped parsley
½ cup (125 mL) extra virgin olive oil
4 to 6 cloves garlic, finely chopped
6 oil-packed anchovy fillets, finely chopped
2 tbsp (30 mL) butter
Salt and freshly ground black pepper to taste
1. Roughly chop beans, leaving them somewhat chunky. Add to a small bowl along with the lemon zest, chili flakes, thyme and parsley.

2. Heat oil in a small pot over medium-low. Add garlic and fry until fragrant, about 2 minutes (do not let garlic brown). Add anchovies and cook until broken down into sauce, 1 minute longer or so. Add butter, stir until melted, then tip bean mixture into pot; stir to warm through. Season to taste with salt and pepper. Serve in still-warm pot along with plenty of crisp vegetables for dipping and scooping.
Makes about 1½ cups (375 mL)
SHARE