Whipped Mackerel on Buttery Pumpernickel Toasts
Summer 2020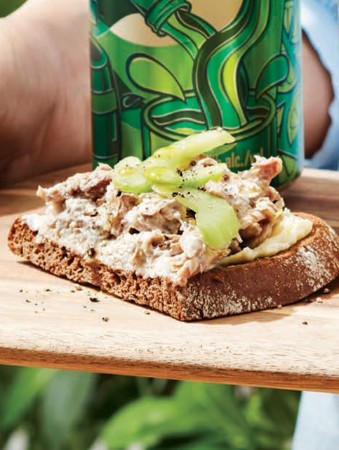 Whipped Mackerel on Buttery Pumpernickel Toasts
Summer 2020
BY: Michelle Rabin
Canned mackerel is an underrated delicacy from the sea. People who haven't tasted it may need convincing, but this may just be the recipe that does it. It possesses similar savoury umami goodness to anchovies, yet is less intensely flavoured. Whip it up with lemon, horseradish and sour cream and it becomes a perfectly balanced dip or spread. Here, we smear it on toasty, buttery pumpernickel slices and top with a crunchy slice of celery. If you can't find smoked mackerel, use smoked herring.
2 cans (each 120 g) smoked mackerel fillets packed in oil
½ cup (125 mL) sour cream 1 tsp (5 mL) lemon zest
1 tbsp (15 mL) prepared horseradish Salt
4 slices pumpernickel bread, toasted
1 tbsp (15 mL) softened butter
Freshly ground pepper 
½ celery rib, thinly sliced on a bias
1 tbsp (15 mL) best-quality extra virgin olive oil
1 Drain and discard oil from mackerel tins then flake mackerel into a bowl Remove bones if any.
2 Add sour cream, lemon zest and horseradish. Stir aggressively with a fork until combined. Season with salt to taste.
3 Toast pumpernickel slices, then spread with butter.
4 Divide whipped mackerel spread over toas Then cut into halves or quarters. Top each piece with freshly ground pepper, a slice or 2 of celery and a drizzle of olive oil.
SHARE