Watermelon Wave
AOÛT 2017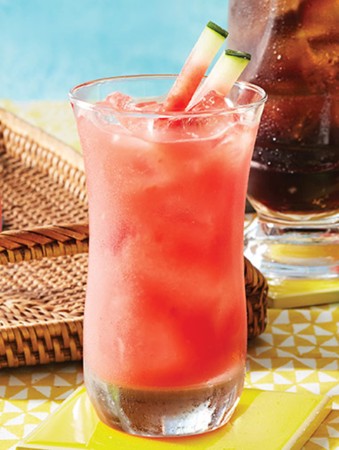 Watermelon Wave
AOÛT 2017
BY: Michelle P. E. Hunt/Laura Panter
Nutmeg adds aroma and delicate flavour to this recipe.
2 cups chopped watermelon
1½ cups spiced
½ cup lime juice
½ cup simple syrup (recipe follows)
Watermelon slices or batons, for garnish
Nutmeg, for garnish
1. Add chopped watermelon to a pitcher or punch bowl and crush. Add rum, lime juice and simple syrup. Stir vigorously to mix. Pour into cups filled with ice and garnish each with a watermelon slice and sprinkle of nutmeg.

Simple Syrup

1 cup (250 mL) granulated sugar
1 cup (250 mL) boiling water

Combine sugar with boiling water. Stir to dissolve sugar. Let cool. Store in covered container in the refrigerator for 1 to 2 weeks.
SHARE