Watermelon Gazpacho
Summer 2018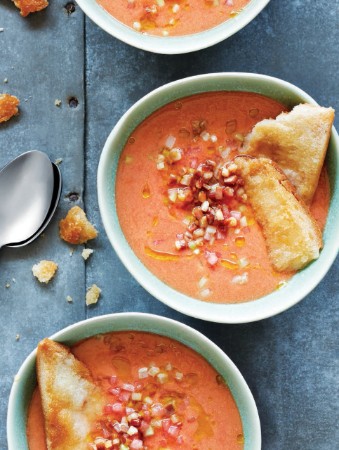 Watermelon Gazpacho
Summer 2018
BY: Signe Langford
A sweeter, less acidic take on the classic (there's no tomato juice added) garnished with a fine dice of cucumber, watermelon, crispy fried pancetta and croutons, this chilled summer soup is practically chug-able! The pancetta adds a salty, fatty decadence, but leave it off for the vegetarians at the table.
½ of a roughly ⅔ lb (300-g) rustic loaf of soft white bread
⅓ cup (80 mL) good olive oil
⅓ cup (80 mL) freshly squeezed lemon juice
3 cloves garlic, minced
½ tsp (2 mL) fine sea salt
½ tsp (2 mL) white pepper
1 sweet red pepper, seeded and coarsely chopped
1 small jalapeño pepper, seeded and coarsely chopped
4 cups (1 L) mixed cherry tomatoes: red, yellow, orange or heirlooms
8 cups (2 L) coarsely chopped seedless (or seeded) watermelon; leave about a ½ inch (1 cm) of watermelon on the rind and reserve for use later in the recipe
1 large (approx. 12 inch/30 cm) English cucumber, peeled and seeded; divided

GARNISH
2 tbsp (30 mL) olive oil
½ cup (125 mL) finely chopped pancetta, about 2 oz (60 g)
Reserved cucumber and watermelon rind
1 tsp (5 mL) good-quality apple cider vinegar
Sea salt to taste
1. Cut the half loaf of bread down the middle widthwise, as if making a huge sandwich. With fingers, carefully pull out the soft crumb without tearing the crusts, and add to a medium bowl. Set the empty shells of crust aside for use later in the recipe.

2. To the soft bread crumb, add the olive oil, lemon juice, garlic, salt and pepper; stir to combine and set aside.

3. Into the bowl of a food processor, add the red pepper, jalapeño and cherry tomatoes; blend on high until slushy with some very fine bits. You may need to stop and scrape down the sides from time to time. Transfer to a very large serving or punch bowl, jug or even a spaghetti pot, big enough to hold about 8 cups (2 L).

4. Return the food processor bowl to the machine and add the watermelon; blend on high until slushy. Add to the bowl of tomato-and pepper slush.

5. Coarsely chop about three-quarters of the peeled and seeded cucumber. Return the food processor bowl to the machine and add the chopped cucumber and bread-and-garlic mixture. Blend on high until a thick paste. Add 1 to 2 cups (250 to 500 mL) of the melon mixture to the food processor and continue to blend on high until completely smooth and creamy, about 1 minute.

6. Add this to the rest of the slush or soup and stir well to blend. Transfer to fridge to chill for at least 2 hours.

7. Meanwhile, make the garnishes. Cut the crusts into randomly shaped croutons; set aside. You should get 20 to 30 pieces from the 2 slabs of crust.

8. Into a medium skillet over medium-high heat, add the oil and chopped pancetta. Fry until crispy, about 3 to 5 minutes, stirring often. Lift from skillet with a slotted spoon and drain on clean kitchen towel.

9. Add the cut crusts to the skillet, reduce to medium heat and fry on both sides until golden, about 2 to 3 minutes each side. Transfer to clean kitchen towel with slotted spoon; set aside to cool.

10. Finely dice the remaining piece of cucumber. Go back to the watermelon rind, cut off the reserved red watermelon flesh—this stuff is more firm than the rest of the melon—and cut into fine dice, the same size as the cucumber. Add to a small bowl and toss with apple cider vinegar and sea salt to taste. Set aside in the fridge to chill until ready to serve.

11. This pretty soup can be served in shot glasses as a passed hors d'oeuvre, or in china cups, bowls, dessert nappies or even glass tumblers. Garnish with a pinch of the diced watermelon and cucumber, a pinch of crunchy pancetta and a crouton or 2. Or bring serving bowl of gazpacho to the table along with little dishes of all the condiments so guests can top their own.
SHARE