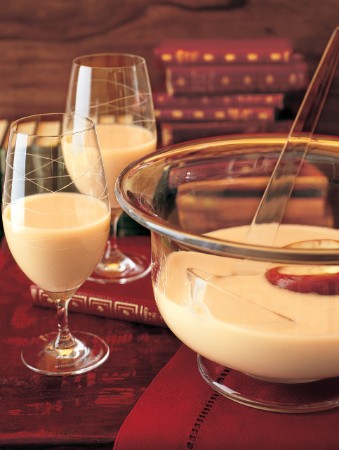 BY: James Chatto
Wassail derives from the Old English greeting, waes hal - "Be well." Originally connected with winter rituals intended to ensure the fertility of apple orchards, it evolved into a medieval custom in which the young women of the parish went from door to door on New Year's Eve carrying a bowl of spiced cider or ale. Those visited drank a little from the bowl, listened while the maids sang a verse or two of a wassail song, and then handed over a small reward in return. The custom eventually evolved into the Victorian practice of door-to-door Christmas caroling. Innumerable variants of the traditional wassail drink exist, many of the older recipes involving beaten raw eggs to add weight and frothiness. This recipe calls for eggnog mix, readily available during the holiday season.
4 small apples
6 cups (1.5 L) sweet hard cider
8 cloves
8 cardamom pods
1 short cinnamon stick
2 cups (500 mL) medium sherry
1½ cups (375 mL) eggnog mix
1. Preheat oven to 350ºF (180ºC).

2. Core but do not peel apples. Set them on a baking sheet and roast for 20 minutes.

3. Meanwhile, put half the cider into a pan with the spices. Bring to a boil, lower heat and simmer for 10 minutes. Strain and discard spices. Add remaining cider and sherry and heat, without allowing it to boil.

4. In a punch bowl, beat eggnog mix with a whisk until frothy. Stir in 1 cup hot cider mixture. Repeat. Slowly add remaining cider mixture. Float hot roasted apples in the bowl. Ladle into glasses.
SHARE