Warm Spring Slaw
Printemps 2012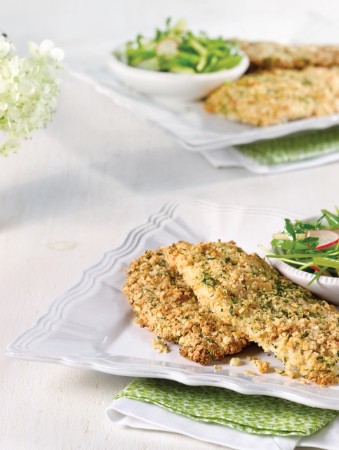 Warm Spring Slaw
Printemps 2012
BY: Monda Rosenberg
For a fresh take on a side salad, give this green trio toss a try. Since the vegetables are merely blanched then dressed with a light Asian-inspired vinaigrette, they still have a little crunch and an appealing hit of heat from freshly grated ginger and hot sauce. Feel free to up the sauce if you love fiery food.
1 lime or 2 tbsp (30 mL) seasoned rice vinegar
1 tbsp (15 mL) olive oil
1 tbsp (15 mL) dark sesame oil
2 tsp (10 mL) finely grated fresh ginger
½ to 1 tsp (2 to 5 mL) hot chili-garlic sauce
¼ tsp (1 mL) salt
3 celery stalks
8 oz (250 g) sugar snap peas, about 3 cups (750 mL)
4 oz (125 g) snow peas, about 3 cups (750 mL)
1 to 2 radishes
¼ cup (60 mL) peas shoots or sprouts (optional)

1 Prepare dressing by squeezing juice from half the lime into a small bowl or pouring in the rice vinegar. Whisk in olive and sesame oils, ginger, chili-garlic sauce and salt.

2 Thinly slice celery stalks lengthwise, then cut into matchstick-size pieces. Remove tough ends and strings from sugar snap and snow peas by breaking off the tough end, then pulling the string back along the edges and discarding. Slice large pods lengthwise into 2 or 3 pieces. Thinly slice radishes. If making ahead, cover and refrigerate dressing and each vegetable separately up to a day.

3 Just before serving, bring a large skillet half-filled with water to the boil. Add celery and boil 2 minutes. Stir in sugar snap peas and boil 2 minutes. Then add snow peas and boil 1 minute. Immediately drain and turn into a bowl. Whisk dressing and toss with salad. Taste and add more lime juice if needed. Stir in radishes and pea shoots (if desired) and serve warm.

SHARE