Warm Mushroom Salad with Aged Cheddar and Walnuts
Winter 2009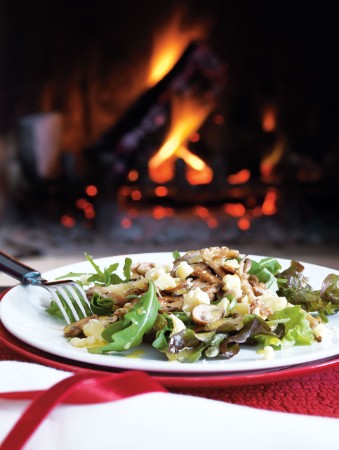 Warm Mushroom Salad with Aged Cheddar and Walnuts
Winter 2009
BY: Tonia Wilson-Vuksanovic
This is the perfect salad to have in front of the fire, with deep earthy flavours that make it more substantial than most. Have everything prepared the day before so that all you need to do on Valentine's Day is warm the mushrooms and toss the greens.
1 tbsp (15 mL) butter
1 clove garlic, peeled and lightly crushed
3 cups (750 mL) mixed mushrooms, thinly sliced (preferably an equal mix of cremini, oyster and shiitake)
1 tsp (5 mL) fresh thyme, finely chopped
Salt
1 tsp (5 mL) soy sauce
¼ cup (50 mL) dry white wine
Pepper to taste
1 tsp (5 mL) Dijon mustard
1 tsp (5 mL) white wine vinegar (sherry or red wine vinegar will also do)
1½ tbsp (22 mL) olive oil
4 cups (1 L) winter greens, torn into bite-size pieces (arugula, escarole, romaine, red leaf lettuce or others)
¼ cup (50 mL) aged white cheddar, finely crumbled
1½ tbsp (22 mL) walnuts, coarsely chopped
1. In a large sauté pan heat butter over medium-high heat. Add garlic clove and cook for 1 minute.

2. Add mushrooms, thyme and a pinch of salt. Sauté for 5 minutes until mushrooms begin to soften and release their water.

3. Add soya sauce and white wine and continue sautéing for 5 minutes or until the mushrooms become golden. Discard garlic clove. Season to taste with salt and pepper.

4. In a medium bowl whisk together mustard, vinegar, olive oil and a pinch of salt.

5. Add greens and toss with vinaigrette, taste a leaf and adjust seasoning. If needed add another drizzle of oil or vinegar.

6. Divide greens on 2 plates, top each with warm mushrooms and sprinkle with cheddar and walnuts.
SHARE