Warm Morel, Leek & New Potato Salad
Printemps 2013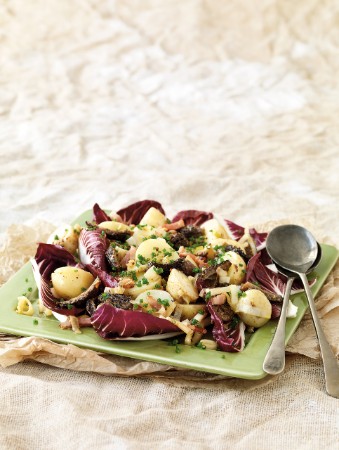 Warm Morel, Leek & New Potato Salad
Printemps 2013
BY: Christopher St. Onge
Slow, gentle cooking of the morels and leeks in a little smoky bacon fat imparts an earthy depth to this warm potato salad. While it makes for a satisfying lunch on its own, it beautifully complements a simple supper of pan-fried fish. Radicchio Treviso, increasingly available at large grocers, is a long slender, endive-shaped cousin of the more familiar round head of radicchio.
1 lb (500 g) new potatoes, larger ones cut in half
½ cup (125 mL) water
2 slices thick-cut, double-smoked bacon, cut into ¼ inch (5 mm) strips
1 clove garlic, finely chopped
2 leeks, white and pale green parts only, halved lengthwise and thinly sliced
3 oz (90 g) morels, cleaned, sliced in half lengthwise
Salt and freshly ground pepper
1 tbsp (15 mL) grainy mustard
2 tsp (10 mL) Dijon mustard
2 tsp (10 mL) cider vinegar
3 tbsp (45 mL) extra virgin olive oil
1 small head radicchio Treviso, leaves separated, larger leaves torn in half
2 tbsp (30 mL) chopped chives
1 Bring plenty of salted water to a boil and cook potatoes for 20 to 22 minutes or until soft. Remove from heat, drain and return to pot; cover with lid to keep warm.

2 Meanwhile, bring ½ cup (125 mL) water to a boil over medium heat in a large skillet. Add bacon and simmer until water is evaporated, about 8 minutes. Reduce heat to low and fry bacon in rendered fat until just beginning to crisp, 5 to 6 minutes more. Using a slotted spoon remove bacon and set aside. Drain all but 1 tbsp (15 mL) bacon fat from pan and return to heat.

3 Add garlic, leeks and morels to skillet. Season with salt and pepper. Cook, stirring from time to time, for about 8 to 10 minutes, or until leeks are soft. Remove from heat. Stir in grainy and Dijon mustards, cider vinegar and olive oil. Add potatoes and reserved bacon to skillet; gently toss to combine. Check seasoning and adjust if necessary.

4 Line a large serving bowl with radicchio. Top with warm potato salad, sprinkle with chives, and serve at once.
SHARE