Warm Asparagus Salad with Wild B.C. Scallops, Wild Leek Vinaigrette & Béarnaise Sauce
Early Summer 2017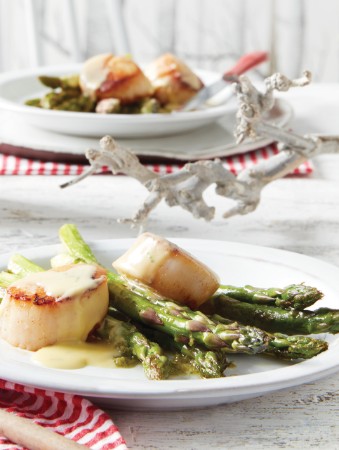 Warm Asparagus Salad with Wild B.C. Scallops, Wild Leek Vinaigrette & Béarnaise Sauce
Early Summer 2017
BY: Chef Michael Hunter, Antler Restaurant
Buttery rich scallops find a natural counterpoint in asparagus dressed with a tangy vinaigrette. Thick stalks of asparagus are preferable for this recipe.
VINAIGRETTE
3 wild leeks or 2 green onions, trimmed
6 tbsp (90 mL) olive oil
2 tbsp (30 mL) red wine vinegar
Salt and freshly ground pepper to taste
ASPARAGUS
1 lb (500 g) asparagus
1 tbsp (15 mL) olive oil
SCALLOPS
12 sea scallops, size U10
2 tbsp (30 mL) olive oil
¼ cup (60 mL) butter
1 Roughly chop the wild leeks. Blend in a food processor with oil and vinegar until smooth. Season to taste. Reserve.
2 Break woody ends off asparagus and peel halfway up the stalks with a peeler. Heat oil in a skillet over medium heat. Sauté asparagus till tender and beginning to brown, about 3 to 5 minutes. Remove from skillet. Season to taste and keep warm.
3 Preheat a large heavy skillet over high heat. Season scallops lightly with salt and pepper. Heat oil until shimmering. Add scallops and cook on one side until deeply browned, about 2 to 3 minutes. Add butter to skillet and flip scallops. Remove pan from the heat and let scallops cook on second side for 3 minutes or until opaque.
4 Dress asparagus lightly with the vinaigrette and arrange on plates. Top with scallops and spoon over the Béarnaise Sauce (recipe follows).
BÉARNAISE SAUCE
This classic French sauce adds extra luxury to a splendid dish.
1 cup (250 mL) unsalted butter
2 egg yolks
1 tbsp (15 mL) white wine vinegar
1 tbsp (15 mL) water
¾ tsp (4 mL) kosher salt
1 tbsp (15 mL) chopped fresh tarragon leaves
1 tsp (5 mL) fresh lemon juice, or more to taste
Salt and freshly ground pepper
1 Melt butter over medium heat in a small saucepan and cook until the foam subsides, about 5 minutes. Strain the golden butterfat through a fine mesh sieve or coffee filter into a measuring jug, leaving any milk solids behind. You should have ¾ cup (175 mL) clarified butter. Keep warm.
2 Place egg yolks, vinegar, water and salt in a stainless steel bowl. Bring 1 inch (2.5 cm) water to a simmer in a saucepan then reduce heat to low. Place bowl over simmering water, making sure they do not touch. Whisk the yolks mixture until doubled in volume and slightly thickened, about 5 to 7 minutes. Remove from heat.
3 Slowly drizzle in the warm clarified butter continuing to whisk until it is all incorporated. Whisk in tarragon and lemon juice. Season to taste. Keep warm in a serving dish until needed. If sauce is too thick, whisk in hot water 1 tsp (5 mL) at a time until it reaches desired consistency.
SHARE