Warm Apple Perogies
Automne 2007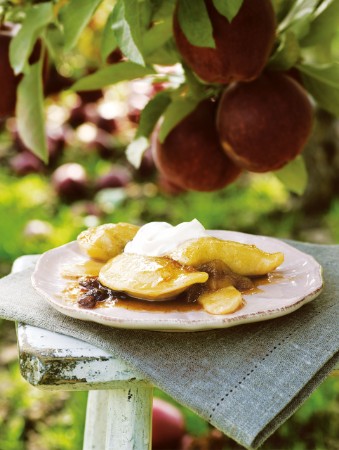 Warm Apple Perogies
Automne 2007
BY: Anna Olson
Think beyond potatoes and cheddar cheese. Many eastern Europeans fill perogies with fruits such as blueberries, cherries or plums, so why not apples? Served warm in a caramel-like brown sugar sauce and with a dollop of sweet sour cream on top, this dessert will warm you through to your toes with sweet satisfaction.
Perogy Dough
2½ cups (625 mL) all-purpose flour
1 tsp (5 mL) fine salt
2 large eggs
½ cup (125 mL) 2% milk
7 tbsp (105 mL) water


Apple Filling
2 cups (500 mL) loosely packed grated McIntosh apple
1 cup (250 mL) graham cracker crumbs
3 tbsp (45 mL) sugar
1 tbsp (15 mL) unsalted butter, melted
½ tsp (2 mL) finely grated lemon zest
¼ tsp (1 mL) ground nutmeg


Sour Cream Garnish
¾ cup (175 mL) sour cream
2 tbsp (25 mL) light brown sugar, packed
¼ tsp (1 mL) pure vanilla extract


Warm Brown Sugar Sauce
¼ cup (50 mL) unsalted butter
½ cup (125 mL) light brown sugar, packed
½ tsp (2 mL) pure vanilla extract
½ tsp (2 mL) ground cinnamon
2 cups (500 mL) peeled and sliced McIntosh apples
1/3 cup (75 mL) raisins
1. To make perogy dough, combine flour and salt in a bowl. Whisk eggs, milk and water and add to flour. Stir with a wooden spoon until blended, then, with a floured hand, knead the dough about 6 times to create a ball (dough will be soft and a bit lumpy). Cover bowl with plastic wrap and chill for at least an hour.

2. To make filling, stir all ingredients together.

3. To make perogies, cut dough in half, wrapping reserved half in plastic wrap. On a floured surface, roll out dough as thinly as possible without tearing (dough is quite stretchy, so will not tear easily). Cut out circles with a 3-inch (8-cm) cookie cutter. Place 1 tbsp (15 mL) apple filling in centre of each perogy. To fold, stretch dough over filling and pinch edges with well-floured fingers (no water is needed to seal the perogies), and place on a parchment-lined baking tray. Repeat with remaining dough. Extra scraps can be shaped into a ball, wrapped and re-rolled after 30 minutes.

4. To cook perogies, bring a large pot of lightly salted water to the boil. Add about 15 perogies to the pot and stir once. Boil, uncovered, until perogies float to the surface. Remove with a slotted spoon and place on a parchment-lined baking tray. At this point, perogies can be chilled or frozen until ready to serve.

5. To make sour cream garnish, stir all ingredients and chill until ready to serve.

6. To make warm brown sugar sauce, melt butter, brown sugar, vanilla and cinnamon in a large sauté pan over medium-high heat until bubbling. Stir in apple slices and perogies. Stir gently until sauce bubbles again and perogies are warm. Stir in raisins.

7. To serve, spoon a few perogies onto a plate and dollop with a spoonful of sour cream garnish.


Makes about 40 perogies. Serves 8-10
SHARE