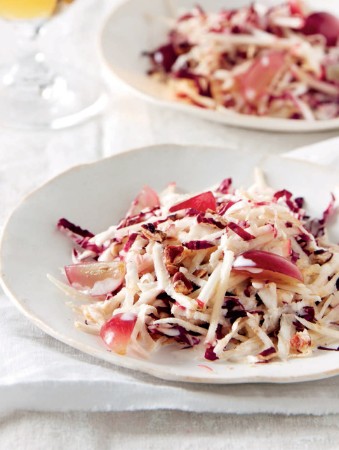 BY: Eshun Mott
The flavours of the classic Waldorf salad go for a spin and become a slaw by using celery root instead of celery stalks. Celery root is sold in a range of sizes and often has lots of dirty knobbly bits that need to be trimmed off. If you think you are going to lose a lot to the compost bin make sure you buy slightly more than you need.
½ cup (125 mL) mayonnaise
⅓ cup (80 mL) buttermilk
2 tbsp (30 mL) cider vinegar
2 tbsp (30 mL) lemon juice, divided
1 tbsp (15 mL) sugar
½ tsp (2 mL) prepared horseradish
Salt and pepper to taste
1 crisp red apple, cored and julienned
1¾ lbs (875 g) celery root, trimmed, peeled and coarsely grated, to yield about 6 cups (1.5 L) shredded
2 cups (500 mL) shredded radicchio
1 cup (250 mL) seedless red grapes, quartered
¼ cup (60 mL) chopped toasted pecans
1. Combine mayonnaise, buttermilk, cider vinegar, 1 tbsp (15 mL) lemon juice, sugar and horseradish in a bowl and whisk to combine. Season with salt and pepper.

2. Toss julienned apple with remaining 1 tbsp (15 mL) lemon juice. Reserve.

3. Place celery root in a serving bowl. Pour over dressing and toss well to combine. Add radicchio, apples, grapes and pecans and toss until just combined.
SHARE