Very-Berry Buttermilk Flapjacks
Spring 2008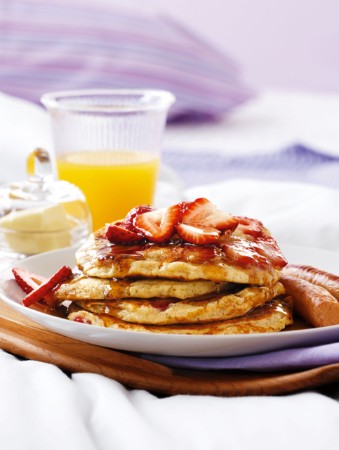 Very-Berry Buttermilk Flapjacks
Spring 2008
BY: Marilyn Bentz-Crowley
These are thick fluffy pancakes that can satisfy a hearty appetite―quite deliciously. Barley flour and flax seed add texture and nutritional value. Serve these with sausages or ham.
Strawberries
1 lb (500 g) fresh strawberries, a generous 4 cups (1 L)
½ cup (125 mL) pure maple syrup

Pancakes (see Tip)
1½ cups (375 mL) all-purpose flour
¾ cup (175 mL) barley flour
2 tbsp (25 mL) granulated sugar
1 tbsp (15 mL) flax seed, ground
2 tsp (10 mL) baking powder
1 tsp (5 mL) baking soda
¼ tsp (1 mL) salt
1 egg
2¼ (550 mL) cups buttermilk
2 tbsp (25 mL) melted butter
1 to 1½ cups (250 to 375 mL) frozen or fresh berries such as blueberries and raspberries
1. Wash whole strawberries under cold running water. Dry on paper towels or a large clean tea towel. Remove hulls; thickly slice berries and set aside in a medium bowl. Only when ready to serve, pour syrup over strawberries and stir.

2. Stir flours with sugar, flax seed, baking powder, baking soda, and salt; make a well. In a separate bowl, lightly beat egg into buttermilk using a fork. Stir into flour mixture along with melted butter until just combined. Batter is thicker than usual for pancakes.

3. Preheat large heavy frying pan or griddle over medium heat; coat with nonstick spray or oil lightly as needed. Pour ½ cup (125 mL) batter for each pancake onto hot grill; spread with rubber spatula until about 6-inches (15-cm) in diameter. Reduce heat to medium-low. Sprinkle each cake with about 2 tbsp (25 mL) berries; gently press down into pancake with fingers.

4. Cook for 4 to 5 minutes; turn as underside is golden when a corner is lifted. (If griddle or frying pan is not well seasoned, give another squirt of nonstick spray or brush more oil in pan between pancakes―or even beneath the half-cooked pancake as it is lifted to be turned berry-side down.) Cook second side 4 to 5 minutes.

5. Serve berry-side up on warm plates, passing strawberries to spoon overtop―and extra butter and syrup for the indulgent!

Tip: Pancakes can be cooled on a rack, berry-side up. Line a large metal baking tray with waxed paper. Arrange pancakes in a single layer. Freeze in batches as needed. Transfer to a heavy resealable plastic freezer bag for a week or more. Reheat from frozen as you would toast in a toaster oven.
Makes 8 large pancakes; 4 to 6 servings
SHARE