Veal Scaloppini with Mushroom Champagne Sauce
Temps des Fêtes 2004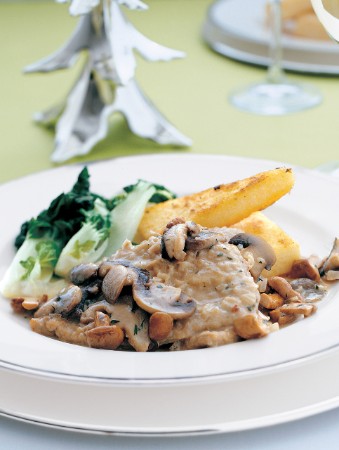 Veal Scaloppini with Mushroom Champagne Sauce
Temps des Fêtes 2004
BY: Jennifer McLagan
You can make this dish even more special by using chanterelles or a mixture of different mushrooms. Whenever you work with more than one kind of mushroom, remember to cook them separately, as not all mushrooms cook in the same time. Serve with baby bok choy and wedges of polenta.
2 tbsp (25 mL) butter
3 tbsp (45 mL) olive oil
10 oz (300 g) mushrooms, cleaned and sliced
1 shallot, finely chopped
¾ cup (175 mL) Champagne
¼ cup (50 mL) whipping cream
4 veal scallopini, about 4 oz (125 g) each
3 tbsp (45 mL) flour, seasoned with salt and pepper
2 tbsp (25 mL) chopped parsley
1. In a frying pan, heat 1 tbsp (15 mL) each of the butter and oil, then add the mushrooms. Cook, stirring until they release their juices. Don't be tempted to add more oil, just keep stirring, and when the mushrooms are almost soft add the shallots and continue to cook for 2 minutes. Add ½ cup (125 mL) of the Champagne and deglaze the pan, then add the cream and bring to a boil. Set aside.

2. In a clean frying pan, heat the remaining butter and oil. Dip the scallopini in the seasoned flour, then place in the pan and cook 1 minute per side. Remove from the pan. Pour in the remaining champagne and bring to a boil, scraping up any browned bits from the bottom of pan. Add the mushroom mixture, the cooked veal and any juices from the meat. Finish cooking the veal in the sauce, turning to coat, about 2 minutes in all. Check the seasoning and add the chopped parsley.
SHARE