Vampires' Demise Roasted Garlic & Pumpkin Soup
Autumn 2011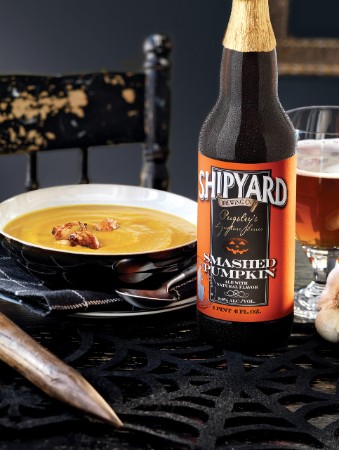 Vampires' Demise Roasted Garlic & Pumpkin Soup
Autumn 2011
BY: Tonia Wilson-Vuksanovic
When roasting garlic for the soup, prepare a couple of extra packages. The extras can be kept in the refrigerator for 2 weeks and added to anything that calls for raw garlic.
ROASTED GARLIC
4 heads of garlic
2 tbsp (30 mL) olive oil

SOUP
2 tbsp (30 mL) olive oil
2 cups (500 mL) onions, coarsely diced
2 cups (500 mL) carrots, peeled and coarsely diced
3 tbsp (45 mL) fresh ginger, peeled and finely diced
½ tsp (2 mL) chili powder
1 can (796 mL) pumpkin purée, not pumpkin pie filling
1 cup (250 mL) yellow-flesh potatoes, peeled and coarsely diced
2 tbsp (30 mL) fresh sage, coarsely chopped
8 cups (2 L) chicken stock
½ cup (125 mL) 35% cream
Freshly grated nutmeg to taste
Salt and white pepper to taste
1 Preheat oven to 350°F (180°C).

2 Slice the tops off the whole heads of garlic to expose just the tips of the cloves, place on a large sheet of foil and drizzle garlic with olive oil. Wrap completely and bake in middle of oven for 1 hour and 15 minutes. Once roasted, open package and let cool.

3 In a large pot, heat oil over medium-high, add onions, carrots, ginger and chili powder and cook until onions begin to soften, about 5 minutes. Add to the pot the pumpkin, potatoes, sage and chicken stock.

4 Bring to the boil, reduce to simmer and let cook uncovered until the potatoes are very tender, about 35 minutes.

5 While the soup is cooking remove all the garlic from its skin and add to pot along with any residual oil.

6 Once the soup is cooked, let cool slightly and purée with a hand blender or in a standup blender (see TIP). Food processors won't make it as smooth but will still work.

7 Once soup is puréed, add cream, nutmeg, salt and pepper to taste, and warm through. Adjust consistency with water if needed and serve warm. Garnish with extra sage leaves, if desired.

Serves 8

TIP Separate solids from the liquids with a strainer and purée the solids separately— this will produce a very smooth consistency. Place puréed solids into pot with liquid and continue to next step.
SHARE