Twenty-Mile Mule
OCTOBER 2020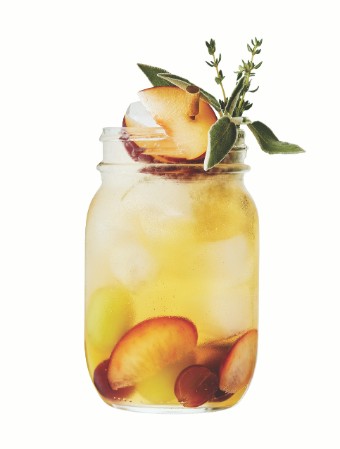 Twenty-Mile Mule
OCTOBER 2020
BY: Christina Veira
Ripe Ontario plums give backbone to a playful mule-meets-punch that showcases the allspice notes of this premium Canadian rye. Feel free to play around with the recipe and put together a big batch.


2 oz Canadian whisky such as Alberta Premium Whisky
¼ cup (60 mL) chopped in-season fruit, such as plums, grapes, apples, peaches and/or berries, preferably a mix
1 or 2 sprigs fresh herbs, such as sage or thyme
½ oz freshly squeezed lemon juice
3 oz ginger beer
1 oz soda
3 dashes bitters, such as Bittered Sling Zingiber Crabapple Bitters
Plum slices, for garnish
Add fruit and herbs to 2 cup (500 mL) Mason jar. Pour whisky overtop. Seal and shake. Refrigerate until flavours infuse, 3 to 4 hours. Stir in lemon juice. Top with ginger beer and soda. Add bitters. Stir to mix. Garnish with fanned plum slices.
SHARE