Turkey with Kumquat Sauce
Holiday 2019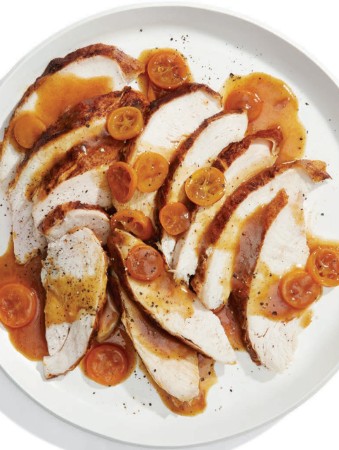 Turkey with Kumquat Sauce
Holiday 2019
BY: Christopher St. Onge
You'll need to grind your own star anise for this gorgeous turkey. If you don't own a spice or coffee grinder, a mortar and pestle works too. Or, if near a Chinatown, you can substitute the spice mixture with 1 tbsp plus 1 tsp (15 mL plus 5 mL) Chinese five-spice powder. It's best to order your turkey from a full service butcher—ask them to spatchcock or flatten the turkey for you to save some time (and effort). The sweet-tart sauce dispenses with the need for cranberry sauce.
DRY BRINE
2 star anise
½ tsp (2 mL) ground fennel seed
1 ¼ tsp (6 mL) ground cinnamon
¼ tsp (1 mL) finely ground white or black pepper
⅛ tsp (0.5 mL) ground cloves
1 tbsp (15 mL) plus 1 ½ tsp (7 mL) kosher salt
1 young turkey, 12 lbs (5.44 kg), spatchcocked
1 onion, thinly sliced
1 carrot, peeled and roughly chopped
2 cups (500 mL) reduced-sodium chicken broth
¼ cup (60 mL) honey
½ cup (125 mL) orange juice
1 tbsp (15 mL) cornstarch
8 kumquats
Salt and freshly ground black pepper
1 For the dry brine, grind the star anise in a spice grinder; add to a small bowl along with the fennel, cinnamon, pepper and cloves. Stir to combine. Measure out 1 tsp (5 mL) of the spice mixture and set aside. Combine remaining spice mixture with salt.
2 Rub turkey all over with the salted spice mixture, doing your best to evenly distribute; arrange on a large rimmed baking sheet. Refrigerate uncovered for 12 to 24 hours.
3 Preheat oven to 425°F (220°C).
4 Tuck onion and carrot under turkey and roast for 1 ½ hours or until a thermometer inserted into the thickest part of the breast registers 165°F (74°C). Remove turkey to a board and tent with foil.
5 Remove and discard the onion and carrot; pour chicken broth over pan drippings and scrape up any browned bits from the bottom of the pan. Pour through a fine-mesh sieve into a medium pot; set over medium heat. Whisk in reserved unsalted spice mixture and the honey.
6 Combine orange juice and cornstarch in a measuring cup. Once stock comes to a bowl, whisk in orange juice mixture. Return to a boil, then reduce heat to maintain a simmer.
7 Cut kumquats in half crosswise and remove seeds; thinly slice. Add to sauce and cook for 6 minutes or until very tender. Season sauce with salt and pepper to taste and serve alongside carved turkey.
SHARE