Turkey Tacos with Corn Salsa and Pickled Red Cabbage
Autumn 2016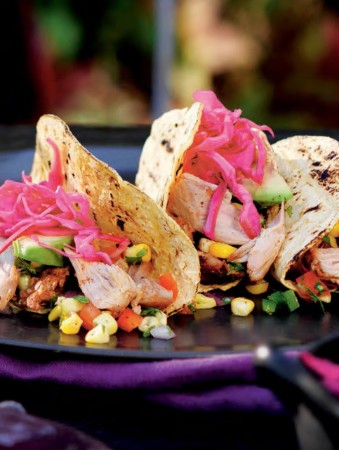 Turkey Tacos with Corn Salsa and Pickled Red Cabbage
Autumn 2016
BY: Eric Vellend
Dark, dense turkey thighs are the perfect vehicle for robust Mexican spices. Wrapped in soft corn tortillas, the succulent meat is layered with tangy pickled cabbage, sweet corn salsa and creamy avocado. If you have a mandolin, use it to shave the cabbage for a delicate texture.
PICKLED CABBAGE
4 cups (1 L) thinly sliced red cabbage, packed
1 cup (250 mL) apple cider vinegar
1 cup (250 mL) water
½ cup (125 mL) granulated sugar
1¼ tsp (6 mL) fine sea salt

CORN SALSA
2 cobs of corn, shucked
1 tbsp (15 mL) fresh lime juice
¼ cup (60 mL) finely chopped red onion
1 tbsp (15 mL) extra virgin olive oil
¼ red pepper, finely chopped
1 jalapeño, finely chopped
⅓ cup (80 mL) chopped cilantro
Salt and pepper to taste

TURKEY
1 tsp (5 mL) ground ancho pepper
1 tsp (5 mL) smoked paprika
1 tsp (5 mL) ground cumin
½ tsp (2 mL) dried oregano
¼ tsp (1 mL) ground black pepper
¼ tsp (1 mL) cayenne pepper
Pinch ground cloves
2 cloves garlic, minced
2 tbsp (30 mL) fresh lime juice
2 tbsp (30 mL) extra virgin olive oil
4 bone-in turkey thighs, about 2¾ lbs (1.375 kg) total
Salt to taste

18 soft corn tortillas, 4 inches (10 cm) in size
2 avocados, peeled and sliced
Hot sauce
1 For the pickled cabbage, place cabbage in a 4-cup (1-L) glass jar. In a mixing bowl, whisk vinegar, water, sugar and salt until sugar and salt are dissolved. Pour over cabbage, leaving ½-inch (1-cm) headroom. Cover with lid. Refrigerate at least 24 hours and up to 1 month.

2 For corn salsa, bring a large pot of water to boil. Add corn. Five minutes after the cobs hit the water, transfer to a baking sheet to cool. Stand cobs on end. Slice downward with a sharp knife to cut kernels away from cob. Set aside.

3 In a mixing bowl, combine lime juice and red onion. Let stand 15 minutes. Add olive oil, red pepper, jalapeño, cilantro and corn. Season with salt and pepper. Mix. (Salsa will keep, covered and refrigerated for 3 days. Bring to room temperature before serving.)

4 For the turkey, whisk ancho, smoked paprika, cumin, oregano, pepper, cayenne, cloves, garlic, lime juice and olive oil in a large mixing bowl. Add turkey thighs and season with salt. Mix to coat evenly. Transfer to an airtight container or freezer bag and marinate at least 4 hours, preferably overnight.

5 Before grilling, let turkey thighs stand at room temperature for 45 minutes. Preheat barbecue to high heat.

6 Clean and oil barbecue grate. Add turkey thighs skin-side down and reduce heat to low. Cover and grill, turning occasionally, until cooked through, 45 to 50 minutes. Remove from grill and rest 15 minutes.

7 While turkey is resting, grill tortillas, 20 seconds per side. Stack on a small plate and cover with a kitchen towel to stay warm.

8 Cut turkey from bone into bite-sized chunks. Serve with tortillas, salsa, drained cabbage, avocado and hot sauce.
SHARE