Turkey Saltimbocca Squares
Temps des Fêtes 2008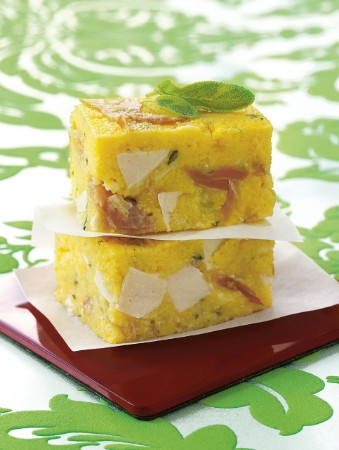 Turkey Saltimbocca Squares
Temps des Fêtes 2008
BY: Anna Olson
What starts as a creamy polenta laden with the classic Saltimbocca flavours of prosciutto and sage, ends up an easy-to-slice square. It can be enjoyed on its own or topped with a slice of prosciutto as garnish.
1½ cups (375 mL) 2% milk
1½ cups (375 mL) chicken stock or water
2 tbsp (25 mL) finely chopped fresh sage
1 tsp (5 mL) finely chopped fresh thyme
¾ cup (175 mL) cornmeal
1½ cups (375 mL) diced cooked turkey breast meat, cut into ½-inch (1-cm) pieces
6 slices prosciutto, julienned
1 cup (250 mL) grated provolone or Swiss cheese
⅓ cup (75 mL) grated Parmesan cheese
Salt and pepper
1. Lightly grease and line an 8-inch (20-cm) square pan with parchment paper so that it hangs over the sides.

2. In a medium, heavy-bottom saucepot, bring milk, stock or water, sage and thyme up to a simmer over medium heat. Whisk in cornmeal gradually, then switch to a wooden spoon and stir until thick, reducing heat to low if needed, about 12 minutes. Stir in cooked turkey, prosciutto, cheeses and stir until cheeses are melted. Season to taste. Spread mixture into prepared pan, cool to room temperature then chill for at least 6 hours before slicing.

3. Squares can be served chilled, room temperature or warmed for 10 minutes in a 350ºF (180ºC) oven.
Makes one 8-inch-square (20-cm) pan, or 25 squares
SHARE