Turkey Croquettes with Homemade Cranberry Jelly
Temps des Fêtes 2004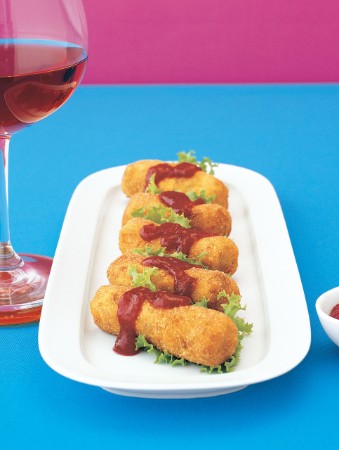 Turkey Croquettes with Homemade Cranberry Jelly
Temps des Fêtes 2004
BY: Dana Speers
Sour cranberry jelly helps cut the richness of these irresistible croquettes. This recipe is an excellent way to use up leftover turkey and mashed sweet potatoes. The croquettes can be made through step 2 and kept covered in the freezer for up to 1 week. The jelly can be made 3 days in advance and kept covered in the refrigerator.
2 tbsp (25 mL) butter
¾ cup (175 mL) chopped onion
1 large clove garlic, minced
¼ cup (50 mL) all-purpose flour, plus ¾ cup for dredging croquettes
1/3 cup (75 mL) milk
¼ cup (50 mL) low-sodium chicken broth
1 ¾ cups (425 mL) finely chopped cooked turkey meat
2/3 cup (150 mL) mashed sweet potatoes, from about 3/4 lb (375 g) sweet potatoes, peeled, boiled and mashed
Pinch nutmeg
1 tbsp (15 mL) chopped fresh sage
Salt and freshly cracked black pepper
2 large eggs
2 cups (500 mL) fine dry bread crumbs
Vegetable oil for frying the croquettes

Cranberry Jelly
2/3 cup (150 mL) cranberries
1/3 cup (75 mL) cranberry cocktail
1 tbsp (15 mL) sugar
1 tbsp (15 mL) dried cranberries

Garnish
24 dried cranberries (optional)
1. In a small saucepan, heat the butter and cook the onion and garlic over medium-low heat for about 5 minutes or until softened but not browned. With a wooden spoon, stir in ¼ cup (50 mL) flour and cook for about 2 minutes. Slowly stir in the milk and broth. Cook mixture until it forms a paste and cook, stirring, for another 3 minutes. Remove pan from heat and transfer to a medium bowl. Stir in turkey, sweet potatoes, nutmeg, sage and salt and pepper to taste. Chill mixture for about an hour or until firm.

2. Put the remaining flour, the eggs and the bread crumbs in 3 separate bowls. Beat the eggs. Roll tablespoons of chilled croquette mixture into 24 small cylinder shapes. Dredge balls in flour, then egg, then bread crumbs. Transfer to a wax paper-lined plate and chill for 10 minutes.

3. To make the cranberry jelly, in a small saucepan, combine the cranberries, cranberry cocktail, sugar and dried cranberries. Cover the pan and bring to a boil. Cook 1 to 2 minutes or until cranberries have popped. Uncover and continue to cook for about 1 to 2 minutes or until mixture has thickened and reduced. Pass mixture through a fine-mesh strainer, pressing down with a rubber spatula to push through as much mixture as possible. Cover directly with plastic wrap to prevent a skin from forming and refrigerate for about 30 minutes or until chilled.

4. Heat vegetable oil in a 1-inch (2.5-cm) nonstick frying pan over medium-high heat until shimmering. Add the croquettes in batches, frying for about 2 to 4 minutes per side or until crispy and cooked through. If croquettes are browning too quickly, turn down heat. Drain croquettes on paper towels and put them on a serving platter. Serve warm, with cranberry jelly and dried cranberries, if desired.
SHARE