Turkey Brunch Burgers
Autumn 2016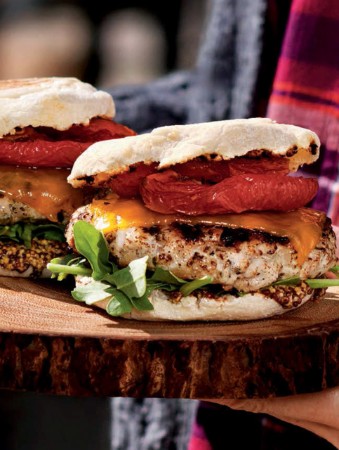 Turkey Brunch Burgers
Autumn 2016
BY: Eric Vellend
Redolent of sage and tart with apple, an autumnal turkey patty is the star of this unique brunch sandwich. Melted cheddar adds gooey richness, while slow-roasted tomatoes give it a sweet hit of umami. If you prefer, the turkey mixture could also be formed into smaller patties, pan-fried and served with pancakes or French toast.
SLOW-ROASTED TOMATOES
1 clove garlic, minced
1 tsp (5 mL) fresh thyme leaves
1 tbsp (15 mL) extra virgin olive oil
1 tsp (5 mL) balsamic vinegar
8 large plum tomatoes
Salt and freshly ground pepper to taste

TURKEY PATTIES
1 tbsp (15 mL) vegetable oil
1 small onion, finely chopped
1 Granny Smith apple, peeled, cored, grated
4 tsp (20 mL) chopped sage
1 lb (500 g) ground turkey
4 slices smoked bacon, finely chopped
½ tsp (2 mL) salt
¼ tsp (1 mL) freshly ground pepper
Large pinch freshly grated nutmeg

6 English muffins
6 slices mild cheddar cheese
Grainy mustard to taste
1 cup (250 mL) baby arugula
1 For the slow-roasted tomatoes, preheat oven to 275°F (140°F).

2 In a large mixing bowl, whisk garlic, thyme, olive oil and vinegar. Halve tomatoes lengthwise. Scoop out and discard seeds. Place tomatoes in bowl. Season with salt and pepper. Mix thoroughly. Place tomatoes cut-side up on a parchment-lined baking sheet. Bake 2 hours. Reduce oven to 250°F (120°F). Bake until tomatoes are shrivelled but still moist, 1½ to 2 hours. Remove from oven and cool completely. (Tomatoes will keep, covered and refrigerated, for 5 days. Bring to room temperature before serving.)

3 For the turkey patties, heat oil in a medium frying pan over medium heat. Add onion. Cook, stirring, 3 minutes. Add apple and sage. Cook, stirring, until moisture has evaporated and apples are al dente, 5 minutes. Transfer to plate to cool.

4 In a mixing bowl, combine turkey, bacon, cooled apple mixture, salt, pepper and nutmeg. Mix thoroughly. Divide into 6 even balls. Form balls into patties that are 4 inch (10 cm) diameter. (Patties will keep, covered and refrigerated for 2 days.)

5 Preheat barbecue to medium-high. Split muffins in half. Trim cheese slices to 3-inch (8‑cm) squares and set aside.

6 Clean and oil barbecue grate. Grill patties until cooked through, 5 minutes per side. During last minute of cooking, place cheese on top of patties to melt. Grill muffins on cut side until lightly toasted, 20 to 30 seconds.

7 Smear muffin bottoms with mustard. Top with a few arugula leaves. Layer with patties, 2 tomato halves each and muffin tops. Serve immediately. Refrigerate any leftover tomatoes for another use.
SHARE