Turkey-Bacon Burgers with Cheddar & Rhubarb Chutney
Spring 2018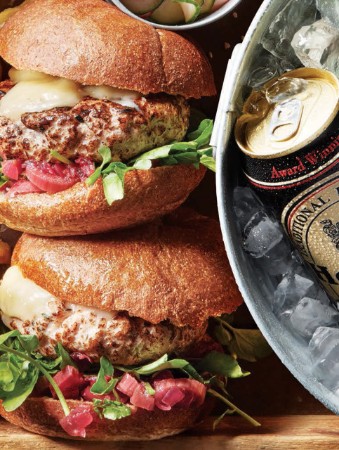 Turkey-Bacon Burgers with Cheddar & Rhubarb Chutney
Spring 2018
BY: Eric Vellend
Smoky bacon-boosted turkey burgers are accessorized with sharp cheddar, peppery watercress and sweet-tart rhubarb chutney. This recipe will yield more chutney than you will need, but it's also delicious with grilled sausages, pork chops or salmon.
TURKEY PATTIES
1 lb (500 g) ground turkey, dark meat only
6 oz (175 g) smoked bacon, finely chopped
1½ tsp (7 mL) chopped fresh thyme
1 tsp (5 mL) Worcestershire sauce
¼ tsp (1 mL) salt
¼ tsp (1 mL) freshly ground pepper

RHUBARB CHUTNEY
1 tbsp (15 mL) vegetable oil
1 cup (250 mL) diced red onion
1 tbsp (15 mL) finely chopped ginger
½ lb (250 g) rhubarb, trimmed, sliced
¼ inch (5 mm) thick, about 2 cups (500 mL)
¼ cup (60 mL) sugar
¼ cup (60 mL) water
Salt and freshly ground pepper to taste
4 oz (125 g) white cheddar, thinly sliced to fit patties
4 whole-grain hamburger buns
Handful watercress, big stems removed
1. For the patties, combine ingredients in a mixing bowl. Mix until bacon is evenly distributed among turkey. Divide into 4 even balls. Form balls into patties to fit buns. (Patties will keep, covered and refrigerated, for 2 days.)

2. For the rhubarb chutney, heat oil in a medium saucepan over medium heat. Add onion. Cook, stirring occasionally, until tender and lightly browned, 5 to 7 minutes. Add ginger. Cook 1 minute. Add rhubarb, sugar and water. Cook, stirring occasionally, until rhubarb is tender, about 5 minutes. Remove from heat. Season with salt and pepper. Transfer to plate to cool. (Chutney will keep, covered and refrigerated, for 1 week.)

3. Preheat barbecue to medium-high.

4. Clean and oil barbecue grate. Grill patties until cooked through, 5 to 6 minutes per side. (An instant-read thermometer inserted horizontally into centre should read 165°F or 74°C.) Place cheese on patties for last 2 minutes of cooking.

5. Smear bun bottoms generously with chutney. Top with a few watercress sprigs. Top with
patties and bun tops. Serve immediately.
SHARE